​The Kemp Town Estate
This page contains articles illustrating the social history around living on the Kemp Town Estate. Titles can be see on the right hand side of the page or at the foot of the page.
Thomas Read Kemp (1782-1844)
Kemp Town is not only the earliest example of Georgian seaside architecture, but the largest as well. Lewes Crescent, for example, is some 200 feet wider than The Royal Crescent in Bath. This spaciousness of layout is the very feature that Thomas Kemp wanted to appeal to the town's wealthiest visitors, who would come to newly fashionable Brighton for the season and entertain on a lavish scale. The landscaped enclosures too are integral to his grand design and since 1995 have been accorded the status of an English Heritage site of historic interest.
Thomas Read Kemp came from a land-owning family. His father, also Thomas, MP for Lewes, where the younger Thomas was born, was left a moiety of the manor of Brighton by his uncle, Thomas Friend. In 1786 part of this was rented by the Prince of Wales, who later built the Royal Pavilion on the site.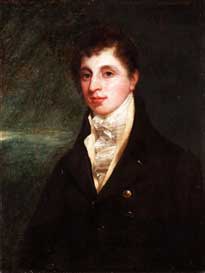 Thomas the younger read Theology at St John's College, Cambridge, and the year after he graduated, in 1806, married Frances Baring, daughter of Sir Francis, the founder of Baring's Bank, by whom he had four sons and six daughters. In 1811 he succeeded his late father, both as Lord of the Manor of Brighton and as MP for Lewes. He resigned his seat in 1816 in order to found a dissenting religious sect, first at St James' Chapel in St James' Street and then at Trinity Chapel in Ship Street, designed by Amon Henry Wilds. The Kemps and their growing family lived firstly at Herstmonceaux, then at the Temple, later to become Brighton and Hove High School in Montpelier, also designed by Wilds. By 1823, Thomas had returned to the established church, which enabled him to resume a career as an MP, firstly for Arundel, then for Lewes again from 1826 -37.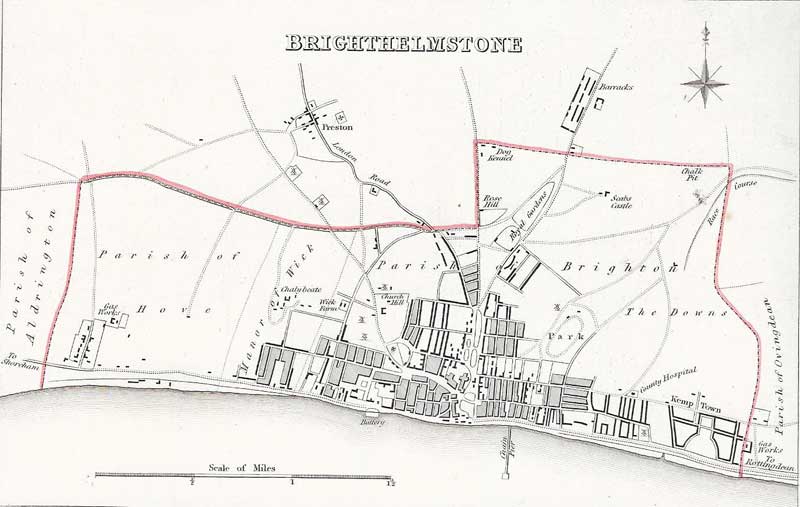 In 1823 Kemp laid out York Street, now Eastern Road, to link the town to a whole new fashionable development . The original plan was for an estate of 250 houses (incorporating two additional squares) but this ambitious scheme was modified to the 105 that we now know. It is thought that Kemp paid the builder George Stafford to erect some of the carcasses of some of the houses.
The finished houses on the Kemp Town Estate, were mainly achieved in two stages. Once the site was laid out on Kemp's land, basic 'carcasses' were erected to tight specifications. Each consisted of a basement ( excavated), foundations, the walls, ceiling joists throughout, a roof and apertures for doors and windows (unglazed) which would have been boarded up. Stairs and water supply were not intitially included.
By 1826 most of the carcasses were in place. On this huge site naturally there were several builders concerned, some of whose names we know; in Sussex Square, Thomas Wyborn built 13 carcasses James Ingledew 19. In 1825/6 there was a national banking crisis and the builders were feeling the squeeze. Wyborn although not bankrupted had to go into liquidation and return his plots to TRK In 1826. Ingledew was in a similar situation. However Mathias Wilks and his son Joseph Browne Wilks bought a number of the sites with carcasses already built. Kemp sold some of those he had acquired from Wyborn to builder Thomas Goodhall.
Into this maelstrom of plots and carcasses changing hands drops Thomas Cubitt, an established and well known builder of large squares and terraces in London. Over time he bought 37 plots and carcasses on which he finished the houses.
'Finishing' a house, the second stage, meant installing a well and drainage system, doors and glazed windows, the interior rooms with ornamental cornices , ceiling roses and balusters and, ofcourse, applying the ornamental facade also as specified. back extensions were also added to house servants and provide space for water closets.
Arundel Terrace was the first to be completed, and by 1826 most houses were occupied. However the depression which followed the end of the Napoleonic wars caused a banking crisis and the hugely ornate facades were deemed too expensive to roll out across the Estate. Thomas Cubitt redesigned the facades in replica of those he had just completed in Eaton Square and the individual lease specifications were altered accordingly. The railings at street level, with their unusual whelk design are thought to have been designed by Thomas Read Kemp himself.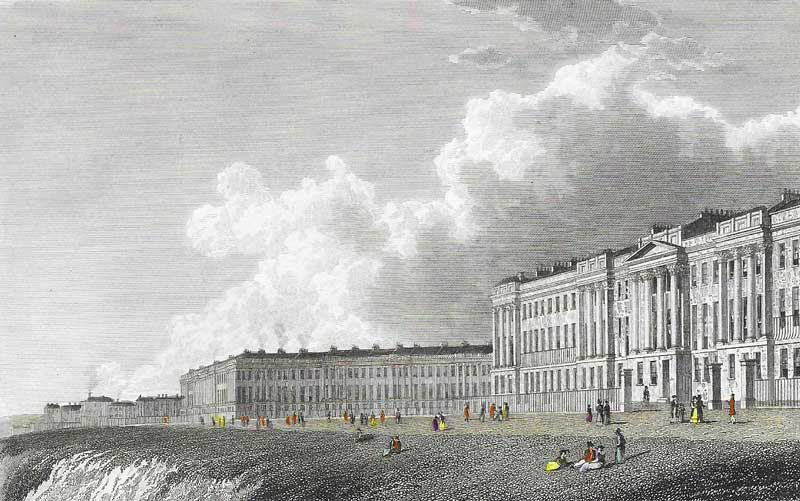 A few wealthy and influential people bought houses, most notably the Marquis of Bristol and Lawrence Peel in the two north corners of the square and the Duke of Devonshire, at the south-west corner of Lewes Crescent. Kemp himself moved into No 22 Sussex Square and installed his sister-in-law, Mrs Ann Sober, next door; his brother-in-law, Philip Laycock Storey, was already established at 25.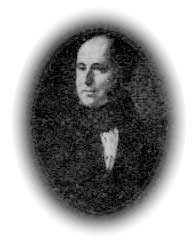 Apart from his property work Kemp was conspicuous in public affairs: he was an ex-officio town commissioner, a trustee of the Steine and a magistrate; he was generous in gifting land for worthy causes such as schools and hospitals. He was widowed in 1825 and in 1832 married Frances Harvey. Their son, Frederick, was to inherit the moiety of the manor and the freehold of the enclosures. In 1834 the Kemps moved to their now completed house at 24 Belgrave Square, London, only rarely returning to Brighton. In 1837 they went to live in Paris at 64 Rue de Faubourg Saint Honore, where he died on 18 December 1844. He is buried in Pere-la-Chaise cemetery.
Further Reading
By Dr Sue Berry, author of Georgian Brighton

By Dr Sue Berry

By Andrew Doig

By Andrew Doig

By Simon Smith

By Andrew Doig

Vanessa Minns

Vanessa Minns

Vanessa Minns

Sarah Lonsdale

Vanessa Minns

Andrew Doig

Pat Dauncey

Vanessa Minns

Andrew Doig

Andrew Doig

Vanessa Minns