Social connections on the estate
Andrew Doig
The development of Kemp Town was made possible by a demand for gracious houses from a newly emergent middle class in the first half of the nineteenth century. Larger houses in this fishing village-turned-fashionable-resort were in short supply.
A few prominent landowner aristocrats were early adopters of the estate: the Duke of Devonshire, The Marquis of Bristol, and Lady Peel. They, with their connections to royalty, lent status to the estate. Merchants made wealthy by the rise of trade with an expanding empire were attracted here along with colonial administrators, judges, soldiers and clergymen.
Some were full time residents but others took houses on short leases for the 'season' in Brighton, in the wintertime. Many had homes elsewhere, be they country estates or London townhouses. In this small area of Brighton there gathered a concentration of Victorian England's elite that only London could match.
Here are some of the connections which may have been made or developed here at Kemp Town between people prominent in their day.
Cornelius Paine, 9 Lewes Crescent and the Hibbert sisters, 11 Lewes Crescent
Cornelius Paine and his son, also Cornelius, were 'West Indiamen', City traders in goods from the West Indies. They owned a substantial sugar plantation on the island of Montserrat. In 1836, when the slavery in the British Empire was abolished parliament paid them £5,062 from the public purse for the 323 people enslaved on their Montserrat estates.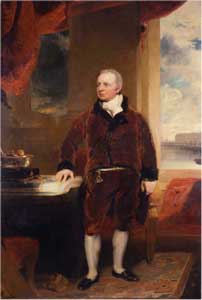 The Paines would have certainly been acquainted with their neighbours Octavia and Harriet Hibbert at 11 Lewes Crescent. They were daughters of George Hibbert, the leading West Indiaman and the promoter of London's West India Docks. He had been a vocal opponent of the abolition of slavery. He lost the argument but won £63,050 in compensation for the 3,453 people enslaved on his plantations in Jamaica. His son, also George, received more than £40,000 in compensation. His daughters at No.11 Lewes Crescent, no doubt, lived in comfort for the rest of their lives, as did the Cornelius Paines.
Thomas Cubitt, George Hibbert, Frances Baring and Thomas Read Kemp
Thomas Cubitt, resident at 13 Lewes Crescent and builder of 37 of Kemp Town's houses, would have known George Hibbert whose daughters took the house he built at 11 Lewes Crescent. In 1815 Cubitt had built the impressive Finsbury Circus headquarters of the London Institute whose president was George Hibbert. Hibbert's friend Francis Baring, the banker, was active with him in the establishment of the London Institute. Francis Baring's favourite daughter, Frances, was Thomas Read Kemp's first wife. Her marriage settlement became a source of funding for the development of Kemp Town.
Rev. Edward Elliott , 11 Lewes Crescent and The Marquis of Bristol, 19-20 Sussex Square
Edward Elliott, was from 1854, the minister at St. Mark's Church on the corner of Church Place and Eastern Road, now redundant. The Elliott's were a prominent family in the Anglican Church in Brighton. Edward's brother, Henry Venn Elliott, was vicar of St. Mary's Church in Upper Rock Gardens. Edward and his brother had been at Trinity College, Cambridge together and there fell in with a set which included Frederick William Hervey, Marquis of Bristol. All were devoted Anglican evangelists and followers of the Clapham Sect. The sect stood for 'missionary evangelism, higher moral standards in public life and the joy of good fellowship'. Sect members of an earlier generation, including William Wilberforce, had campaigned for the abolition of the slave trade. The Elliotts were instrumental in setting up St. Mary's Hall, the school for the daughters of clergymen, funded by the Marquis of Bristol and now occupied by administrative staff of the Royal Sussex County Hospital.
Cousins Henry Buckle, historian, at 49 Sussex Square
and Henry Buckle, merchant, at 22 Lewes Crescent
Henry Buckle, historian and noted chess player, published 'The History of Civilisation in England' in 1857. It is a work still recognised today as a departure point from the accepted view of history as ordained by God, to a view of history which could be shown, by reference to observation and analysis, to have been the result of actions of man and nature. His thesis was inspired by Darwin who had overturned the accepted wisdom of creationism, offering a different explanation of the natural world through scientific observation and reasoning.
After Henry published his book, he was very much in the public spotlight. He attended many dinner parties among the London literati, meeting, among others, Darwin, the botanist Joseph Hooker, the evolutionary philosopher Herbert Spencer, the physicist John Tyndall, and the explorer David Livingstone.
Henry and his mother were frequent visitors to Brighton, staying for lengthy periods with her sister, Mrs. Ward, at 49 Sussex Square. Thomas Henry died of typhoid fever in Damascus whilst travelling in 1862.
His first cousin Henry Buckle, a merchant, had taken over the running of the family business which their two fathers had run together. Buckle's was a long-established London merchant house. Originally wine merchants, importing port and brandy, the Buckles had extended their imports to other goods and began owning and operating ships themselves. They ran 'East Indiamen', ships on contract for the East Indies Company, from London to Cape Town and on to India. As the colonies opened up, their ships traded to and from Australasia, at first taking convicts and grain to New South Wales and bringing back wool on the return journey. Over time the outward human cargo changed from convicts to emigrants and the cargo in the holds from grain to manufactured goods. The homeward journey brought a more varied cargo of passengers, wool, blue gum wood, seal skins, whale oil and eventually gold and silver.
Henry Buckle, the merchant, took the business into insurance and banking and became very wealthy. He was a director of the London & Westminster Bank, one of the core businesses of the present RBS group. In 1857, in anticipation of retirement Henry bought 22 Lewes Crescent and lived here, and at his house at Cumberland Terrace, Regents Park, until 1879.
Henry Buckle, 22 Lewes Crescent, Lord John Russell, 14 Sussex Square and Frances Baring, father of Mrs T R Kemp
Henry Buckle , the merchant, as his father before him, was active in the General Shipowners' Society, a trade association which lobbied government on issues, such as import duties, which affected the development of their shipping business with the colonies. In March 1841, Henry, as Chairman of the Shipowners' Society, led a delegation to Lord John Russell, then Colonial Secretary, seeking to defeat government proposals to place import duties on sugar, timber and corn. Presumably they were pleased with the outcome, because in June of 1841 the New Zealand Company held a banquet in honour of Lord John Russell at which he received a most enthusiastic welcome. Henry was a director of the New Zealand Company, whose chairman was Frances Baring, father-in-law of Thomas Read Kemp.
Lady Sackville, 40 Sussex Square and Sir Samuel Evans, 9 Sussex Square
In 1912 Lady Sackville, Vita Sackville West's mother, was left treasures which had been part of the Wallace Collection by her friend Sir John Murray Scott. His family accused her of undue influence over Sir John in his declining years and contested the will. The case was heard in London by Sir Samuel Evans of 9 Sussex Square with the two most famous barristers of the day F. E. Smith for the Scott family and Sir Edward Carson for Lady Sackville. The case ran over two weeks in the summer of 1912 with front page reports in the popular press and daily attendance by society ladies in the public gallery, including Mrs. Asquith and Clementine Churchill.
Before the case, Lady Sackville had written to Samuel Evans saying, "I can't believe that you would let yourself be mixed up in this painful affair when you and I meet among our friends in society and I meet your wife often too'. This did not stop Samuel Evans hearing the case or from summing up in her favour. She won the case and collected £150,000 in cash from Sir John's estate, the equivalent of £13 million today, together with furniture and other treasures from the Wallace Collection at his Rue Lafitte apartment in Paris, insured for £350,000. Sir John had expected her to keep the furniture and other treasures at the Sackville's Elizabethan home, Knole, a house which he had been helping fund and where they would have found a suitable home. However, Lady Sackville promptly sold them as one lot to a dealer for cash.
Anna Neagle, actress and Herbert Wilcox film director at 18 Lewes Crescent and Jack Buchanan actor at 19 Lewes Crescent
In 1953 the film star Anna Neagle came to live at 18 Lewes Crescent with her husband Herbert Wilcox. Five years later Jack Buchanan, the debonair actor and singer arrived at No.19. Jack and Anna had starred together in the 1931 West End Musical Stand Up and Sing. Herbert Wilcox saw both actors in this musical and gave them starring roles in his 1932 film Goodnight Vienna.
Herbert and Anna were married in 1943. The financial risks of film making led to Herbert to bankruptcy in 1964 and so Anna returned to the stage. She starred in the West End musical Charlie Girl, which ran for more than 2,000 performances and solved their financial problem.
Jack Buchanan, despite being a Scot, was renowned for his portrayal of the quintessential English gentleman on stage and screen. He was well known in theatre circles for his financial generosity to actors and chorus performers who were less prosperous that he was. His affair with the actress Coral Browne is immortalised in the Alan Bennett play An Englishman Abroad in which the spy Guy Burgess, exiled to Moscow, plays Jack's recording of Who on a gramophone while the Coral Browne character tells him that she 'almost married' Jack Buchanan. He died of cancer at 66 in 1957.