Part of an article published in the Sunday Times on 29 May 2016. by Sarah Lonsdale. Photographs by Andrew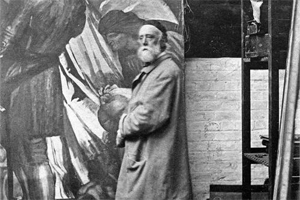 When Martin Kenig returned to his flat in fashionable Kemp Town, Brighton, one evening in 2011, a handwritten letter from the Watts Gallery, in Surrey — created to display works by the Victorian artist George Frederic Watts — was waiting in the old entrance hall. A researcher wanted to know more about the building where Watts had worked on his enormous masterpiece The Court of Death. "It was a huge surprise," says Kenig, a medical writer. "I had always loved Victorian paintings, and I had books on Watts on my shelves. To hear that my flat was in part of the house where he had lived and painted was wonderful."
The letter sparked Kenig's extensive research into the Brighton years of the man who painted portraits of his fellow artists William Morris, Dante Gabriel Rossetti and John Everett Millais, as well as society beauties. "I read his wife's memoirs, which describe how the morning light poured into the house and made his painting of Eve breathe and scintillate in the sunshine," he recalls. "It changed the way I feel about this place. When I see Watts's paintings in galleries, I think of these canvases stacked in the house." ( For more on George Watts see No 31 Sussex Square House History)
Thanks to digitised records on the website of the local Kemp Town Society — a three-year "labour of love" for the committee member Vanessa Minns — Kenig has found a second nearby address
(24 Lewes Crescent see House History )associated with his artist hero. "If I had known how much work it was going to be, I would probably not have begun," says Minns, who edits kemptownestatehistories. com. With help from other volunteers and "a lovely web technician", she has transcribed and uploaded 25,000 lines of census and street-directory information.
"It is laborious, but as you type in people's names, decade by decade, you become rather attached to them. Then, suddenly, they are not there, and you realise that between the previous census and the one you are working on, they probably died, because now the head of the household is the widowed wife. You then realise she fell on hard times, because the next entry shows the address has become a — probably cold and miserable — boarding house for the sons and daughters of the Empire."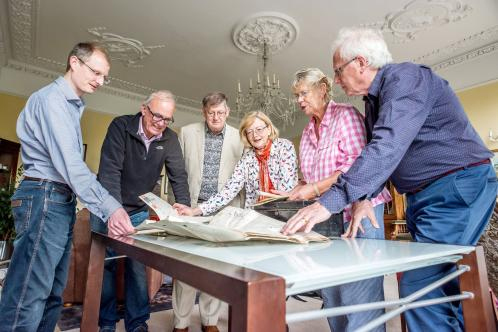 Another Brighton project, My House My Street, run by the Regency Town House Heritage Centre and covering the wider city, has put up 103,440 pages of census and street-directory information on previous residents. This involved "more than 100 volunteers working for 7,000 days", according to its director, Nick Tyson. Residents simply type in their address to find out their home's past (myhousemystreet.org.uk).
Kemp Town resident Philip Tucker discovered that the impresario Jack Buchanan, Britain's answer to Fred Astaire, lived in his house in the 1950s. "During that time, Brighton was full of theatrical types. I like to imagine Jack mixing cocktails for his guests, probably by a piano. I'd love to see his guestbook." ( see 19 Lewes Crescent House History )
Sarah Lonsdale