The History of 48 Sussex Square
1 David Pursey
2 Bas relief
1 David Pursey, Architect, 1933-2014
One-time resident of 48 Sussex Square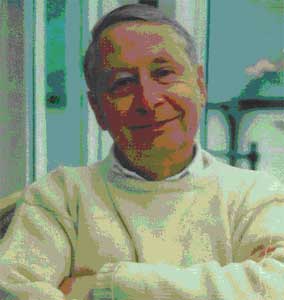 David made a valuable contribution to the conservation of houses of the Kemp Town Estate, managing, at one time or another, 23* of the 105 houses. He had a passion for the care of historic buildings and liked working with the resident freeholders of houses rather than for absentee investors.
David was a Southampton man who first qualified in architecture back in 1959. He built up a large practice in Worcester but sold up in order to get back to hands-on practice. He came to Brighton in the early 1980's, lecturing part-time in architecture at Brighton Polytechnic while developing his design and freehold management practice here. Over the next thirty years he worked with scores of residents on the Estate. A quietly spoken and gentle man, he was ever professional in his behaviour and was liked and respected by his clients and local contractors. It was David who encouraged Tim Clark and Nick James to form their building maintenance company upon their former employer's death. They continue to work on many houses of the Estate today.
Apart from the day-to-day repairs to our listed buildings, David oversaw the restoration and of three whole houses: Fife House for Todd Cooper and Giuseppe Sironi in 2001, 9 Sussex Square for Eugene Perera in 2003 and in the same year, 23 Lewes Crescent for Cate Blanchett, the latter project involving the now-legendary craning of a marble bathtub over the roof and into the house.
David believed that we are custodians of these fine buildings, to be enjoyed by generations to come. Towards that goal David gave devoted service. His assistant Chung-Ju Lee continues to run his practice today.
Andrew Doig 2016
* Houses at one time managed by David: No.10 Chichester Terrace, Nos.3,11,16,20-22,24 and 28 Lewes Crescent, Nos. 7/8,12,14,18,24,41,42,48,49/50 Sussex Square and Nos.2,4 and 9 Arundel Terrace.
Bas Relief