The History of 43 Sussex Square
1 The Brothers Ferrers of 43 Sussex Square 1924 to 1967
2 Staircase
For 43 years until 1967, the house was home, successively, to three brothers, Hugh, Edmond and Vyvyan Ferrers, as they retired here in later life. Each had a privileged education followed by careers in the law and commerce, the army and colonial administration, practiced around the British Empire but particularly in Malaya, India and Ceylon.
The Ferrers' father
The brothers were the sons of Norman McCleoud Ferrers. a distinguished mathematician, who is known for the 'Ferrers Diagram,' much as his college colleague, John Venn, is known today for 'Venn Diagrams'. Both mathematicians taught at Gonville & Caius College where Norman Ferrers was appointed Master in 1880.
The brothers' mother, Emily left Cambridge after Norman died and lived at 140 Marine Parade, Brighton from 1912 until her death in 1920. Their mother's address was given on the military records of 1914 for brothers Hugh, 43, and Vyvyan,37. Hugh served with the Inns of Court Officer Training Corps, Edmond was a career soldier with the Cameronians, the Scottish Rifles and Vyvyan's First World War service, as yet undiscovered, was probably spent out in India.
Hugh's career in the Far East
FERRERS, HUGH NORMAN, LL.M., M.A., Barrister-at-law, Advocate and Solicitor, Supreme Court of the Federated Malay States and of the Straits Settlements. 2 HighStreet, Kuala Lumpur,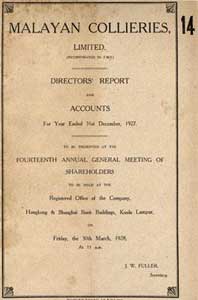 Hugh Norman Ferrers, the eldest brother arrived at 43 Sussex Square in 1924. At 53, he was an established figure with business interests in the Far East. He had been educated at King's College, Cambridge where he had been Secretary of the Cambridge University Liberal Club, a post later held by his contemporary Bertrand Russell, and in 1903 by John Maynard Keynes. After being called to the bar, Hugh practised as a barrister at the Malay States Supreme Court in Kuala Lumpur and travelled widely on business. His name appears on the passenger lists of ships leaving England for Spain, Gibraltar, Italy, Singapore, Sri Lanka, Japan and Surinam. It appears that his career was far wider than legal advocacy. He became a director of the highly profitable Malayan Colliery Co. Ltd.
He died in Brighton in December 1945.
Lt. Col 'Uncle' Edmund Bromfield Ferrers, Hugh's younger brother, had died in February 1944 after illness that had forced him to retire from Army recruiting in Brighton in 1942. He died at a nursing home in Hove but his address was given by his brother, Hugh, as 43 Sussex Square. It is possible that Edmond lived in part of the house with his brother Hugh after returning from Ceylon in 1935 and while acting as a recruiting officer in Brighton from 1941.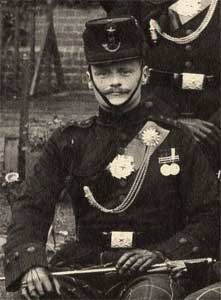 Edmond as a Captain in 1909
"Go on 'B' Company, I am dammed proud of you."
"Nicknamed 'Uncle' by his troops, Edmond was the most extraordinary of the brothers Ferrers. His career is described on the Cameronians' website: Ferrers enlisted as a 2nd Lieutenant in 1899, serving with the 2nd Battalion during the South African War. By the start of the First World War in 1914 he was in command of his beloved "B" Company. During the Battle of Neuve Chapelle, he was wounded almost as soon as he crossed over the British line but refused to give up and continued on to the German trenches where another hit forced him to stop. Still refusing to be carried back to safety by his men, instead he propped himself up against the German parapet for a better view and calmly lit a cigar. From his vantage point Ferrers cheerfully encouraged his men by shouting; "Go on 'B' Company, I am dammed proud of you." For his bravery and leadership at Neuve Chapelle, Ferrers received the award of the Distinguished Service Order and he was also mentioned in Dispatches. He spent the next two years recovering from his injuries in England, all the time eager to get back to his beloved regiment. In February 1917 he rejoined the 2nd Battalion but struggled to cope on active service at the front whilst dealing with the effects of his injuries. After only two months he was forced to take a more peaceful role behind the front lines. After the war he had recovered enough to accompany the 2nd Battalion to India, Iraq and Kurdistan, during which time he was able to resume command of "B" Company. After promotion to Lieutenant Colonel in 1923, Ferrers commanded the 1st Battalion and was in charge when they were posted to China in 1927. He held the command of the Ceylon Defence Force from 1931 until 1935. During the Second World War he was Recruiting Officer in Brighton from 1941 until illness forced his retirement in August 1942.
Stirring up an insurrection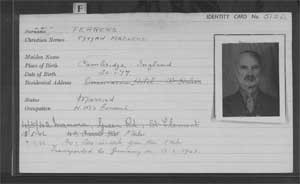 Vyvyan Ferrer's Jersey registration card
Vyvyan Macleoud Ferrers, the youngest of the three brothers to live here, moved to 43 Sussex Square after Hugh and Edmond had died in 1944 and 1945, both unmarried.
Educated at Trinity College, Cambridge, Vyvyan had long served in the Indian Civil Service, first as a collector of land taxes based in Bombay from 1900, but rising in the colonial administration there. He married out in India and his son Ian was born there. In the 1930's Vyvyan was back in England and working as a bankruptcy practitioner. Before the war, he became HM Consul in St. Malo but retired to a hotel in Jersey with his wife, Helen, presumably following the fall of France. When the Germans occupied the Channel Islands in July 1940, life became difficult.
In 1941 Vyvyan and Helen got involved in an altercation with a Luftwaffe pilot, quartered at the hotel, who noticed Helen wearing a brooch in the form of an RAF pilot's wings, which he said was 'offensive to German forces'. The brooch was given her by her son, an RAF pilot after his first solo flight. The German pilot asked the Head of the Feldegendamerie to persuade her to remove it but when she refused, and Vyvyan arrived to back her up, an angry scene ensued. Vyvyan was arrested by the Feldegendarmerie, questioned and later imprisoned in France for a year. He returned to Jersey in May 1942 but in February 1943 was deported along with other 'trouble makers', first to Compiegne internment camp and then to Biberach in Germany. While he was there, in September 1943, his wife Helen died. Vyvyan spent the rest of the war interned awaiting court martial for 'stirring up an insurrection', as he put it in a letter to a colleague from his time in India.
After repatriation, he lived with his son John and wife, Florence, at 43 Sussex Square until his death in 1955. His son, John Ian Edmund McIver Ferrers or, Ian, as he was known, had been born in India while his father served there in the civil service. He served as a pilot in the RAF during the second world war. His forenames honour his father's brother Lt Col. Edmund Ferrers and his mother's brother Major Kenneth Ian McIver DSO, MC.
John and Florence, had returned from India in 1935. They lived at 43 Sussex Square after the war and until they moved to No.32 Sussex Square shortly before she died in 1967. John died in 1969.
Andrew Doig 2016
ACKNOWLEDGEMENTS:
Career of Lieutenant Colonel Edmund Bromfield Ferrers D.S.O. ('Uncle') (1878 - 1944): www.cameronians.siteiscentral.com/1901/people/ferrers
St. Helier registration card of Vyvyan Ferrers: Jersey Heritage Trust
Story of Vyvyan's arrest and internment: Gilly Carr, Paul Sanders & Louise Wilmot 'Protest, Defiance and Resistance in the Channel Islands: German Occupation 1940-1945' Bloomsbury 2014, and, Paul Sanders 'The British Channel Islands under German Occupation 1940-1945' Jersey Heritage Trust 2005.
Vyvyan Ferrers and life at Sussex Square post WW2: information kindly supplied by family history researcher Sharon Casey.
2 Staircase