The History of 2 Sussex Square
1 The Rev.H.N.Goulty
2 Lt. Maurice Stanley Craike-Pickering MC.
3 Captain Hugh Langton Hornby, MC
4 Herbert Radcliffe Horden
5 A Well discovered
1.The Rev.H.N.Goulty
Kemp Town clergy
Recollections of Kemp Town's early days by published on 16th January 1892 by William Baines in the Brighton Herald
The late Rev. H. N. Goulty of Union Chapel and Extra Mural Cemetery fame, after his migration from Western Road (at the corner of Regent Hill) lived in Kemp Town for many years. He had a most singular antipathy to Burn's little 'bonnie gem'. The sight of the daisy in the greensward of the Kemp Town Enclosures had the same effect on him that the sight of a Frenchman did upon Nelson. It gave him nervous twitchings. Many passages of arms did the rev. gentleman have with the burly old gardener upon the subject and finally the daisies had to quit.
To read more of these Recollections find the Article on the Estate page by Andrew Doig
It is currently supposed that 1 and 2 Sussex Square were always one dwelling. The 'corner' sites on the Estate were always a tricky building conundrum because of their wedge shape. Wilkes having acquired the carcass from Kemp at 4,000 square foot proceeded to extend the buildings, on the land behind, to enclose a further 6,000 square foot making the property one of the biggest on the Estate
.Although 1 and 2 Sussex Square have always been popularly supposed to have always been used for schools, in fact No 2 is recorded as having been the residence of Horton Lambert Esq. physician and surgeon from 1895 -1898, several others to 1909 and Major le Vicomte and Madame la Vicomtesse d'Aubigne from 1910 - 1914. (See Street Directories)
By 1932 it became a boarding house for St Mary's School and remained a college or school since that time
2. Lt. Maurice Stanley Craike-Pickering MC.
British Army 25th Machine Gun Battalion Machine Gun Corp
from:Beverley, East Yorkshire
(d.14th April 1918)
My Great Great Uncle, Lieutenant Maurice Stanley Craike-Pickering MC. was
son of Seth Pickering and his wife Mary Craike of Beverley East Yorkshire.
He was born at Beverley in 1886 and educated at Beverley Grammar School. In
1901 he began work as an apprentice Cabinet Maker to his father who was a
cabinet maker and shopkeeper in Beverley. He was Initiated into
Constitutional Lodge No 294 Province of Yorkshire North and East Ridings and
was a Joining Member of Maguncor Lodge. Later he became a Rubber Planter in
Dutch Borneo.
Commissioned and Gazetted as 2nd Lieutenant 13th Battalion, Highland Light
Infantry 7th April 1915; transferred to the Machine Gun Corps 26th November
1915; served with the Expeditionary force in France and Flanders from March
1916. He was awarded the Military Cross (London Gazette 14th November 1916)
"For conspicuous gallantry in action. with his machine gun with great
courage and determination, repulsing an enemy counter-attack at a critical
time".
The husband of Jean Craike-Pickering of 29 Braidburn Court, Edinburgh, he
was wounded at the First Battle of the Somme on the 15th September 1916. He
died of his wounds in the Herbert Samuelson Hospital Brighton on the 14th
April 1918 aged 32. Remembered with Honour in Brighton and Preston Cemetery.
Sussex.
3.Captain Hugh Langton HORNBY, MC, 8th Battalion Royal Inniskilling Fusiliers,
is buried in Plot 39152. He was severely wounded at the Battle of Messines
in Belgium on 6th June 1917, being awarded a Military Cross for gallantry in
action during the battle. He was evacuated to UK and eventually died of
his wounds on 5th June 1918, aged 23, whilst a patient of the Herbert
Samuelson Hospital, Sussex Square, Brighton. He is commemorated on the
Cheltenham War Memorial.
His brother, Lt Joseph Henry Hornby, Royal Engineers, was killed in action
in France on 7th November 1918, just a few days before the Armistice. The
inscription on the front kerb of the grave says "They were lovely and
pleasant in their lives and in death were not divided".
The brothers resided at "Lindela", Pilford Road, Leckhampton, Cheltenham.
4.Herbert Radcliffe Horden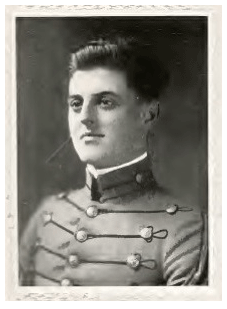 Herbert Radcliffe Hordern was born on June 12, 1892, the son of the son of Radcliffe and Grace Harriet Nesbitt Hordern. Herbert was descended from what his Alma Mater described as "distinguished English ancestry," which may partly explain his decision to join the British ranks in 1915.
In 1908 Hordern enrolled in the Virginia Military Institute, where he earned such distinguished nicknames as Count, Herbo, and Scrooge. Hordern struggled with academics and eventually graduated in the Class of 1914, prompting the yearbook author to quip:
All records of matriculation of this Stone Age representative have long since crumbled to dust, and it is only by careful examination of the hieroglyphics, recently excavated, that we can discover anything concerning him.
Apparently Hordern wanted to carry on Virginia's cavalier tradition, which resulted in more ruthless taunting in his yearbook:
His highest ambition is to be a dashing cavalry officer, and we earnestly hope that Uncle Sam, in his leniency, will examine his nether extremities through a magnifying glass and let him in.
Two months after graduation Europe was embroiled in war, and Hordern wasted little time in crossing the Atlantic to join the British Expeditionary Force. Hordern was able to gain a commission as a 2nd Lieutenant in the 3rd (Reserve) Battalion of the Irish Guards in August of 1915.
Writing in 1917 his mother recalled:
His dearest wish ever was to be a soldier; and when this War came he felt from the first the most intense desire to go to the front in any capacity.
Hordern served as an adjutant and received a slight wound at Loos before being transferred to the 2nd Battalion (the same unit that Rudyard Kipling's son John served with). According to his mother, he, "made good from the first; and those warm-hearted Irish adopted their American 'Sammy' with sincere affection."
1916 brought the Battle of the Somme, and with it the incident that would forever alter Hordern's life. At the beginning of August, Lt. Hordern was put in charge of a small party of men tasked with digging new trenches near the embattled village of Thiepval. Hordern and his detail left their main camp on August 1st and had to take trucks to a bivouac near where they were to start digging. The next day they set about their task and soon came under the fire of German artillery. Hordern was in the middle of directing his small detail when a shell exploded that wounded Hordern and eight other men in his party.Rudyard Kipling chronicled the incident in his classic work, The Irish Guards in the Great War:
2nd Lieutenant Hordern was dangerously and eight men were slightly wounded by one shell while at work…The machine had taken possession of their lives and fates, and as they went from trench to bivouac and back again they could both see and hear how extremely little a battalion, or for that matter a brigade, mattered in the present inferno. The fortnight's battle that had opened on the 14th of July had finished itself among erased villages and woods that were already all but stumpage, while the big guns were pounding the camps and bivouacs that held our reserves, and one stumbled on old and fresh dead in the most unlikely and absurd places.
Hordern was evacuated to a hospital directly behind the lines where he underwent the first of two surgeries before being sent to London, where his mother paid him a visit and recalled:
In November [1916] another operation was performed; and, after many anxious weeks and agonies of pain unspeakable, he began slowly to creep back to life. He is still in Hospital, but convalescent, and we are now hopeful he may in time be well. Whether he will again be with his beloved regiment, we can not yet say, but he has no other hope than to get back to his work. He has been brave—never a murmur.
It would be nearly three years before he would leave the military hospitals to rejoin his family. On January 26, 1918 his mother reported:
He is, I am most happy to tell you, very much better, can now walk about in the house, and even get up steps, with his sticks. He is still under his medical board, at a convalescent home for officers at Brighton (Tie Herbert Samuelson Hospital, 2 Sussex Square), and spends most of his days in the wonderful bracing air of that charming place.
One month later he would be placed on the half pay list because of his inability to serve.
By war's end, he would finally be sent home. During his time in the B.E.F. Hordern earned the Mons Ribbon of Service and was recommended for the Victoria Cross for his bravery on August 2, 1916. He received a full commission into the Irish Guards August 29, 1916 with seniority from the date of his wounding and was promoted to 1st lieutenant on November 27, 1916.
When he returned to the United States he lived with his family in Pennsylvania, but was never able to recover from the Somme. On September 23, 1929 he died from complications from his wound.
5 A Well discovered
This is an email sent to No2 on 14th July 2015 during building renovation.
'Just a small surprise from Sussex Square, uncovered at the weekend.
It appears there is an underground well spanning the width of the party wall to the adjoining property in one of the internal courtyards, location and photos below.
It measures approx. 16m deep.
While there is no direct access to this courtyard for any of the students and staff, it can be accessed via the basement windows.
Work to the new floor finish in this area has been stopped, but we were hoping you might advise on any protocol we need to implement in the event of something like this happening?
We will speak to the structural engineer to get her take on it also, but any comments would be appreciated.'
Sadly the well has now been concreted over.