The History of 16 Sussex Square
Ewart Alan Mackintosh MC 1893-1917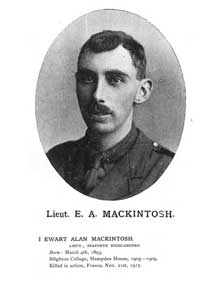 Although he was born in Brighton, his father Alexander Mackintosh had his roots in Alness in Ross and Cromarty. His mother Lillian was the daughter of the renowned preacher, Guinness Rogers, who was a close friend of Gladstone, after whom he was named. He was a day boy in Hampden House at Brighton College, an easy walk from 16 Sussex Square, which his family moved to in 1907. In addition to the conventional curriculum, he also took lessons in the bagpipes and gaelic.
After Brighton he went to St Paul's and thence as a scholar to Christ Church, Oxford, where he read classics. In the middle of his course the war broke out. He immediately tried to join the army, but was rejected because of his poor eyesight. Finally, he secured a commission in the Seaforth Highlander, appropriately a highland regimentand was in France from July 1915 to August 1916, when he returned to England after being wounded at High Wood. For eight months following his recovery he was at Cambridge, training cadets. In September he at last returned to the front, but was killed while observing enemy movements under heavy fire at the 2nd battle of Cambrai on 21 November 1917.
His M.C. was earned in May, 1916, for organising and conducting a successful raid on enemy trenches near Arras, and for carrying out the wounded under heavy fire. Many of the men who served with him were New Zealanders. He found he had a great rapport with them and had planned to make his home in their country had he survived the war.
The Brighton College Magazine for 1917 states 'In his death we have lost a poet - how fine we shall never know, for he died like a thrush in his first April. He lives on through his poems'
One of the most anthologised of his poems is In Memoriam, written after the raid for which he earned his MC. It its structure and its elegiac tone it is reminiscent of the poems of Thomas Hardy. Here indeed is a poet who shows much promise.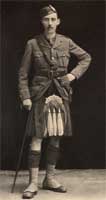 In Memoriam
Private D.Sunderland
killed in action in the German trench, May 16, 1916,
and the others who died
So you were David's father,
And he was your only son,
And the new-cut peats are rotting
And the work is left undone,
Because of an old man weeping,
Just an old man in pain,
For David, his son David,
That will not come again.
Oh, the letters he wrote you,
And I can see them still,
Not a word of the fighting,
But just the sheep on the hill
And how you should get the crops in
Ere the year get stormier,
And the Bosches have got his body,
And I was his officer.
You were only David's father,
But I had fifty sons
When we went up in the evening
Under the arch of the guns,
And we came back at twilight -
O God! I heard them call
To me for help and pity
That could not help at all.
Oh, never will I forget you,
My men that trusted me,
More my sons than your fathers',
For they could only see
The little helpless babies
And the young men in their pride.
They could not see you dying,
And hold you while you died.
Happy and young and gallant,
They saw their first-born go,
But not the strong limbs broken
And the beautiful men brought low,
The piteous writhing bodies,
The screamed 'Don't leave me, Sir',
For they were only your fathers
But I was your officer.
from A Highland Regiment (John Lane, The Bodley Head, 1917)