The History of 46 Sussex Square
Antony Dale 1912-1993
The term 'local historian' barely does justice to the immense amount of work that Antony Dale did to record the history of Brighton and perhaps even more importantly to conserve much of its architecture
Brighton planners made some serious misjudgements during the second half of the 20th century, none more so than in 1945 when they considered a wrong-headed scheme to demolish the Brunswick and Adelaide developments and much else of the seafront, replacing them with robustly modernist buildings, such as Embassy Court. This proposal, which also involved a car park in the midst of Brunswick Square, led to a massive public outcry. Anthony Dale responded by establishing the Regency Society, whose purpose was, and continues to be, to work with the council and often other societies to protect all that is best in the architecture of Brighton and Hove – of any era – and promote excellence in new developments.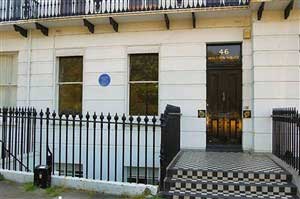 46 Sussex Square was Antony Dale's home for 48 years (as the blue plaque tells us) and that of his family before that. His grandfather Joseph Liddell lived there from 1904 until his mother Dorothy Dale took it over in 1921. Both generations had direct responsibility for running of the gardens, Joseph as chairman of the enclosures committee from 1915-17 and Dorothy as a committee member and holder of various offices from 1921-1963. Thus 46 Sussex Square, one of the very few houses on the estate never to have been divided into flats, was something of a headquarters for all gardening operations, most notably when Dorothy saw off an attempt by the war office to requisition all of the gardens for defence purposes. She secured a reprieve for the north garden, the section of the south garden above the 'horseshoe' and the potting shed, whilst the army made use of the southern section for a rent of £15 pa and a contribution to the gardener's wages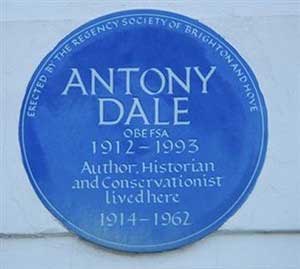 Antony Dale was educated at Brighton College as a dayboy and at Oriel College, Oxford, where he read law. For most of his life he was involved with buildings in one way or another. He worked for 30 years in the historic buildings section of the Department of the Environment and from 1969 to 76 was chief investigator for Historic Buildings in England and Wales. His role was to produce a list of buildings of special architectural and historic interest for the guidance of planning authorities.
He published 6 books about Brighton. Fashionable Brighton 1820-1860 marks the culmination of the work he did on the history of the town and in particular the work of Thomas Kemp. He also published in the 70s and 80s The History and Architecture of Brighton, Brighton Old and New, with James Grey, About Brighton, Brighton Town and Brighton People, The Theatre Royal Brighton,The Wagners of Brighton, Brighton Churches, and a booklet A History of the Kemp Town Enclosures (1964, revised with a postscript by Anthony Orchard in 1994)
Simon Smith.