The History of 6 Lewes Crescent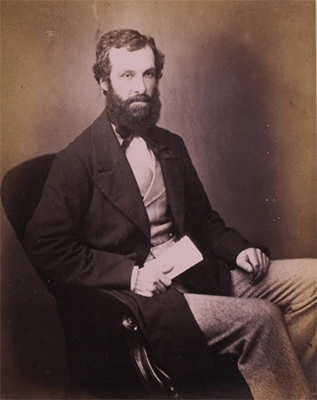 William Coningham (1815-1884
For 47 years, from 1880, 3 generations of the Coningham family occupied 6 Lewes Crescent. William Coningham became one of the two MPs for Brighton in 1857, succeeding Lord Alfred Harvey (see 20 Sussex Square), when he became Lord of the Treasury, and held the seat until ill health forced him to retire in 1864. He lived from 1848 to 1870 at 26 Sussex Square. In his House History for No 26 Andrew Doig refers to Williams Baines' article from the Brighton Herald about Kemp Town residents, who speaks of William Coningham as 'that staunch Liberal member…years in advance of his time'. He was certainly a very active MP: Hansard reports that he asked 368 questions in his 7 years, on subjects ranging from the Princess Royal's dowry to Naval expenditure to the National Gallery's collection. A supporter and correspondent of Lord Palmerston's he was in favour of the gradual extension of suffrage. His radical views place him in the same part of the political spectrum as an earlier Brighton MP, George Faithfull, who was one of the first inhabitants of the Estate at Chichester House.
William Coningham's obituary in The Times on 23 December 1882 records that he was born in 1815, the son of the Rev Robert Coningham of County Londonderry and Louisa, the daughter of Col James Capper of the Madras army. After Eton and Cambridge, he served in the First Light Dragoons. We might add to these bare facts that he amassed a huge collection of paintings, displayed in his own gallery in Dorchester Terrace, Bayswater, and that he lost his religious faith early in his career and was openly atheist. He described himself to James Fitzjames, his adoptive brother and closest friend, as 'as bad a radical as ever.'
He was indeed a patriarchal Victorian figure, being succeeded by 3 more William Coninghams in an unbroken male line for almost 100 years. William(I) married Elizabeth Meyrick from Burford in 1840 and they had a son, William John Capper, in 1843, and a daughter, Elizabeth, a year later. William(II) attended Brighton College as one of its earliest dayboys before going to Trinity Hall, Cambridge. He married Harriet Claxton, and they had a daughter, Elizabeth Coningham (after her grandmother), who never married and lived until 1972. It is not clear where the family lived between leaving 26 Sussex Square in 1870 until occupying 6 Lewes Crescent in 1880. One might guess that they travelled for the sake of William's health, which was the cause of his leaving parliament in 1864. They certainly moved to Lewes Crescent with Hester Mayrick, the older sister of Elizabeth, who died in 1881, leaving William to be looked after by his son and daughter-in-law until his death in 1884.. William junior continued to live in the house for another 5 years until his death in 1899, leaving Harriette to live out her long widowhood at 6 Lewes Crescent until 1927.
It is worth noting that the lower western arm of Lewes Crescent contains three other houses where families remained for long periods spanning the nineteenth and twentieth centuries. The Waterhouses were at No 3 for nearly 50 years; the Borings at No 5 for 40; and Sir Thomas Lennard Bart and his family at No 7 for 72 years. We notice from the Street Directories that in all three cases, after these long tenures, in the 20s and 30s the houses were divided into flats.
William(II), who is described in the census of being of 'private means', continued to live in the house for another 15 years until his death in 1899, leaving Harriet to live out her long widowhood at 6 Lewes Crescent until 1927. Their son, William Francis Meyrick Coningham (William III) was also born at 6 Lewes Crescent in 1888. He fought in the Great War in the Royal Army Service Corps, and died as a consequence of it in 1920, aged only 32. His own son, William Donald Meyrick, William(IV), died in Burma in 1942,