The History of 26 Lewes Crescent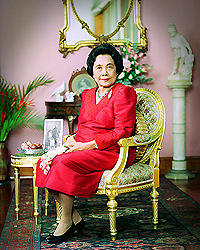 Princess Bejaratana
The Thai Royal family announced the death on 28th July 2011 of Princess Bejaratana (pronounced Pet-Cha-Rat). The Princess had lived for some years after the second world war at No.26 Lewes Crescent, Brighton with her mother, Princess Consort Sudadhana.
She had been born to her mother and the King in November 1925 and was the King's only child. The King died the day after her birth and her uncle, the new King, performed her naming ceremony. Absolute monarchy only gave way to constitutional rule in 1932 and the play of power between the old feudal system, the military and various democratic forces has been fought out ever since, often with fatal consequences.
The Princess and her mother moved to Dusit Palace where she received her education from a private tutor. They then moved in with the Queen grandmother during the war, and the princess attended school until the age of 12.
After the war, the Princess and her mother moved to England for her further education. They first stayed at Fairhill Villa at Camberley in Surrey before finally moving to Brighton. Her mother is said to have dealt in stocks and shares and had a comfortable living with a retinue of Thai servants. One elderly man who, as a child in 1947, lived 4 doors along from the Royal household in Lewes Crescent, remembers playing in the Lewes Crescent gardens with a Thai girl from the Thai royal household.
The household moved to 30 Dyke Road on 18th January 1955. Princess Bejaratana returned to Thailand in 1957 and thereafter performed duties representing the royal household with special interest in health and welfare. She was said to have a special ability with numbers and could calculate the day of the week for any dates presented to her, promptly and without any hesitation, as well as remembering the birthdays of all individuals who have been presented to her. She was a revered member of the Thai royal family and was given a state funeral in 2011.
Andrew Doig