The History of 24 Lewes Crescent
1 Sister Scholastica,: Charlotte Pearson Boyd
2.School Days
3. Visitor George Watts, artist
4.Pattledom-on-Sea Sarah Monckton Prinsep (nee Pattle)
5. A Daughter of the Regiment.
Blanche'Daisy' Margaret Standish Clogstoun
Sister Scholastica Charlotte Pearson Boyd
(b. 28 March 1837 Macao - d. 7.00 p.m. 3 April 1906 Kilburn)
In 1842, when Thomas Kemp deeded a large parcel of land and buildings to Thomas Cubitt, 24 Lewes Crescent went into the property bundle. A few months later, Cubitt sold the house on to William Smith Boyd who in turn passed it, probably as part of their marriage settlement of 1835, to his son, Alexander Pearson Boyd, and his wife, Charlotte (who had been born in present-day Azerbaijan). The Boyds and the Buckles were already in business together as ship owners, marine and insurance brokers and wine merchants operating from an elegant ex-ambassadorial building in the City of London.
Alexander and Charlotte had returned on the the 'Asia' from Macao in 1837 with their six week old baby, Charlotte Pearson. Alexander was a prosperous merchant trading out of the Spanish Hong (Factory) of the Chinese Repository in Canton, but local attitudes towards foreign interests were hardening into violence. Perhaps it was this, together with the birth of their first child, which decided their departure. Whatever the reason, sometime between 1842 and 1845 they moved into No.24. I imagine they would have found an empty house, as it is not clear that William Boyd ever lived here and most surrounding properties seem to have been unoccupied or guarded by a solitary quivering housemaid.
On 30 March 1851, Census night, the couple, by now in their mid-forties, were at home entertaining a widowed friend, Sarah Crozier, along with their young family: Charlotte, now 14, Pearson aged 12, John, 10, and the two little girls, Eliza, 5, and Sarah, 4, both of whom were born at No. 24. Answering the servants' bell in the basement were three unmarried women, and for those of us imagining a comfy Mrs. Bridges figure ruling the kitchen, we have instead Elizabeth Coleby, cook, a 21 year old Cockney from Whitechapel.
By the time the Census came round again, they had gone - to Kensington, I suspect - although it seems the house was not sold by the family until 1891.
There was a strong tradition of service to the Church in both families who were tremendously proud of their ancestor, an abbot in 15th century Scotland. This vocational trend obviously made a strong impression on Charlotte, a determined but reticent child. In 1850, she had gone on an outing from Lewes Crescent to Glastonbury. Gazing at the ruined Abbey, she felt called by God to restore abandoned ecclesiastical buildings and bring them back into the use of the Church. She spoke of this to absolutely nobody from the age of 13 until she was 28 and it was not until her late 30s that she could put her ideas into practice, using legacies left her by a grandfather and uncles who obviously adored her - 'she looks just like her mother'. In the meantime, during the '60s, she had lost all her family except one brother, to the usual range of Victorian scourges. However, there was no stopping the indomitable Charlotte. By 1871, her English Abbey Restoration Trust had over 1,000 members. In 1891, the orphanage in Kilburn which she had founded and ran personally until her old age housed 107 girls as well as two little boys. She also cared for young women after childbirth and servants who had fallen on hard times. As Sister Scholastica, she re-established an order of Benedictine nuns at Malling Abbey, Kent, where she reintroduced the singing of Plainchant.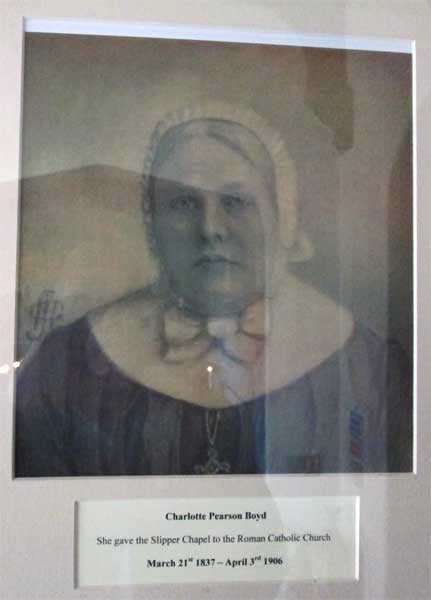 Miss Boyd had a long-term female companion, who is the source of much of our information, although, when young, she had received a marriage proposal from a vicar whose 'hopes were doomed to disappointment'. Her unusual financial independence allowed her to stay single and independent.
Towards the end of her life she converted to Catholicism, losing friends and influence in the process, but her ultimate achievement lay in her purchase in 1896 of the medieval shrine, The Slipper Chapel, which stood at the beginning of the pilgrims' 'Holy Mile to England's Nazareth'. This she rescued from complete destruction, gifted to Downside Abbey and it is now the centre of the National Shrine of Our Lady of Walsingham. Having snatched the Chapel from under the noses of a group of American investors who wished to repurpose it as a tearoom, Miss Boyd stoutly defended her course of action during a bout of unseemly ecclesiastical legal fisticuffs between the Catholic and Anglican factions. She was fortified by the spirits of two pre-Reformation Benedictine nuns who visited her nocturnally at Malling Abbey.
Her last ten years were marred by poor eyesight and the diabetes which killed her, aged 68, in 1906. She is buried in Kensal Green Cemetery. Despite the huge bequests, she was not wealthy at the end of her days, 'I was once rich' but 'am now in Queer Street'.
I like to think of the teenage Charlotte on 30 March 1851, sitting at the dining table in what is now my sitting room, surrounded by happy siblings all attentive to Mrs. Crozier's comfort, tucking into a delicious supper cooked by Lizzie and served by Annie. All the time silently planning her gift to God.
2. Schooldays: 1862-1877
There is little to discover about No. 24 for about fifteen years after the departure of the Boyds. I presume the Rev. Horvall took the house on a rental basis from the Boyd family for his Gentlemen's Boarding School, as did Mrs. Armitage who lived here for a couple of years until a Ladies' Boarding School arrived in 1868.
This single-sex establishment must have been quite a success since the widowed Mrs Catherine Rice and her unmarried sister, both born in Jamaica, held sway for at least nine years. In the 1871 Census, there were four governesses, one to teach the girls French of course, nineteen girl boarders and four young local female servants. The question anyone who lives in one of these houses is now asking themselves is 'Where on earth did they put them all?'. Classes, dancing lessons, sick-bay, meals, sleeping: how did they do it?
Despite having a large cast to work on, an (admittedly haphazard) search has failed to unearth a story for any of the inhabitants. Where they came from before or where they went to afterwards I do not know.
But we can speculate that while Sidney Forclyce, the fifteen-year-old schoolgirl, yawned over her French verbs and gazed out of the French windows on our first floor, Ellen Boniface, the fifteen-year-old tweeny, was in the basement peeling potatoes for 27 lunches. At least Ellen was a Brighton girl and may have been able to gossip with her friends and family through the basement railings occasionally. Sidney was born in Calcutta and perhaps sent home for health reasons. If not the more hard-working, she may have been the more lonely and friendless of the two.
When the school left in 1877, the neighbours probably breathed a sigh of relief as the constant comings and goings, door-slamming and giggling at furtive passing 'admirers' came to an abrupt end.
3. George Watts Visitor at 24 Lewes Crescent
George Frederic Watts (1817-1904) was considered to be one of the greatest artists of the Victorian period. He made portraits of the leading figures of his time, including Tennyson, Gladstone and William Morris, and later in his long career, he painted a number of symbolic and allegorical pictures. Among Watts' best known works are his painting Hope and his sculpture Physical Energy. The Watts Gallery at Compton, Surrey, displays over one hundred of Watts' paintings, and other major holdings of his works are at Tate Britain and the National Portrait Gallery. Watts was briefly married to the actress Ellen Terry, and in 1886 he married Mary Seton Fraser Tytler, who was an accomplished artist and designer.
Watts spent long periods in Brighton in the late 1870s and 1880s, particularly during the winter months. Watts hoped that these visits would improve his health and that his work would benefit from a better light than he had in London. He began to visit Brighton frequently from 1878 when Mrs Sara Prinsep became the owner of 24 Lewes Crescent after the death of her husband Thoby. Watts had previously lived in the Prinseps' Kensington house for a period of 25 years. At Lewes Crescent, Watts was also able to spend time with his ward, Blanche Clogstoun, who had come to live with Mrs Prinsep.
Mary Watts in her Annals of Watts' life recounts: "A house at Brighton had been decided upon by Mrs. Prinsep. Her son Val could so easily run down to her from London; and the dryness and brightness of the winter climate she thought would be better for Signor [as Watts was known], who was likely to spend many of the shorter days away from London. It also solved difficulties of education for Blanche and the grandchildren, now entirely with Mrs Prinsep; therefore, by the autumn of 1878, she had settled at 24 Lewes Crescent, and a room suitable as a studio was prepared".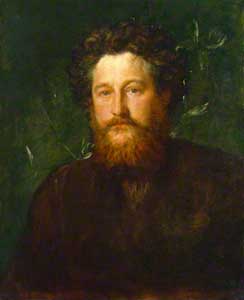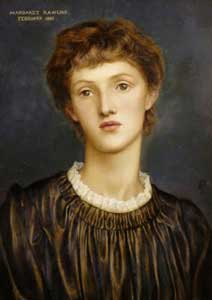 In a letter dated December 1878, Watts writes that he has "a fair painting room at Brighton but find that I cannot very well take large designs, so I propose I devote my time there to painting a few portraits". Among his sitters at Lewes Crescent were the explorer Sir Richard Burton, and Rachel Gurney, Sara Prinsep's grandchild. Both portraits are in the Watts Gallery collection.
In 1879, Watts writes that "I expect to be going away to Brighton and remain more or less all winter". In another letter of January 1881 he remarks that the weather in Brighton that day "has been as bright and lovely as ever I saw it at Naples".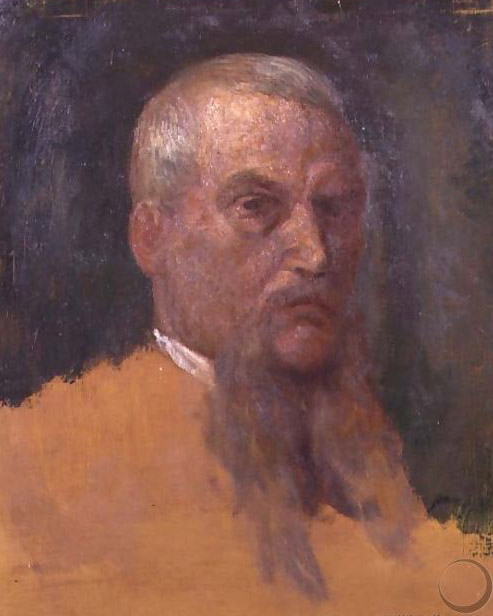 Mrs Sara Prinsep died in Brighton on 15 December 1887. She was no longer living at 24 Lewes Crescent after 1885. After his marriage to Mary, and two winters spent abroad, Watts returned to Brighton in November 1888 (see the House History for 31 Sussex Square).
Martin Kenig
4.Pattledom on Sea
Sara Monckton Prinsep (nee Pattle)
Sara Pattle was born in Calcutta on 12 August 1816, died in Brighton 15 December 1887 ( Resident at 24 Lewes Crescent Autumn 1878 - 1885) She was the third of the seven surviving daughters of James ('Jim Blazes') Pattle, 'India's most notorious liar and drinker' and Adeline de l'Etang, of racy aristocratic French/Indian descent, whose father had been exiled from France for 'flirting excessively with Marie Antoinette' whilst employed as her page. Despite their unconventional background, James held high office and the couple moved in the loftiest echelons of colonial society. Adeline, Sara, Maria (grandmother of Vanessa Bell and Virginia Woolf), Louisa, Virginia and Sophia were all deemed great beauties, except for Julia Margaret, who instead had talent, energy and brains. These were to bring her lasting fame as a singularly innovative and inspirational photographer.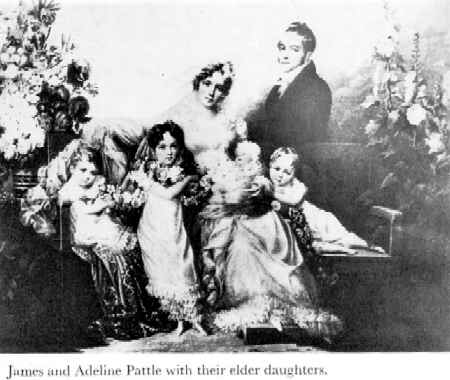 Theirs was a cosmopolitan upbringing spent between Bengal and Versailles.
After their return to England, it was said that the Pattle sisters' lives were a work of art, and their flamboyant lifestyle was tolerated within high society, although not necessarily encouraged nor emulated - and certainly not universally admired. Among themselves the girls chattered away in an exotic mixture of Hindustani and French, gesticulating in an alarmingly unBritish manner and flashing their 'Pondicherry eyes'. They wore oriental costume, bells and bangles jingling as they served Indian cuisine to the awestruck literary and artistic glitterati. Collectively known by their good friend, Thackeray, as 'Pattledom' (Julia was 'Talent', Sara 'Dash' and Virginia 'Beauty') they were more celebrated in their day than the Mitford sisters in theirs.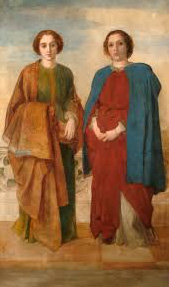 In 1835 in Calcutta, Sara had married Henry Thoby Prinsep, a wealthy civil servant 24 years her senior, whose family fortune was made in the indigo trade. They returned to England and in the 1850s and 1860s Sara held a glamorous salon at their London home, Little Holland House in Kensington, which was frequented by everybody who was anybody in the worlds of science, politics, literature and art. It was said of these famous Sunday afternoon at-homes:
'A breezy Bohemianism prevailed. That time of dread, the conventional Sunday of the early Victorian era, was exchanged for the wit of cynics, the dreams of the inspired, the thoughts of the profoundest thinkers of the age… Among the habitues .... were Carlyle, with his rugged genius, Tennyson, Thackeray, Dickens, Rossetti, Burne-Jones, Browning and a score of others whose names now enrich the sun of England's greatness.' We can add to these: Garibaldi, Disraeli, Gladstone, Herschel, Ruskin, Millais and Holman-Hunt.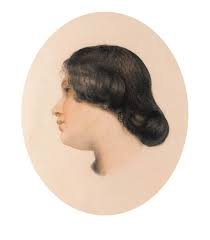 Thoby Prinsep, a Persian scholar, sounds a dear old chap, dressed whatever the weather in layers of coats and sporting a conical hat and veil, 'grand in his everything, even his sneeze', for which an appreciative theatre audience had once requested an encore. His private income funded Sara's cultural open-house and he was loved by all, fondly known as 'Dog Thoby' for his gentle amiability and sweet nature. Sara was a gifted 'lion hunter' and her greatest 'bag' was undoubtedly the artist, G F Watts, her resident genius who 'came to stay three days; he stayed thirty years'. Watts has been described as an 'enabled child' and certainly the Pattle sisters had their various roles as nurse, mother, matchmaker, confidante and general worshippers, tirelessly at the service of their adored and constantly ailing 'Signor'. An exasperated nephew asked 'What would Aunt Sara have done had Watts been well?'
This devotion was returned by Watts, who reluctantly painted the portraits of the great and the good to fund the building of The Briary at Freshwater on the IOW in 1873. This was at the disposal of Sara and Thoby, whose fortune had been drained in controversy-wracked attempts to win a Parliamentary seat. Both were ill, Thoby almost blind, and they were dependent on Watts for a home until, in 1878 Thoby died aged 86. Sara decamped to Brighton where her symbiotic relationship with Signor continued. The glory days were past, replaced, I suspect, by nagging concerns surrounding the financial confusion attendant on Thoby's death. But I think there must have been happy times too as the famous and beautiful came to 24 Lewes Crescent to sit to Watts for their portrait, as Martin Kenig describes above.
Val, Sara and Thoby's genial giant of a second eldest son, followed in Signor's footsteps and became a Royal Academician, living a bachelor artist's clubbable life in Kensington next door to his life-long friend, Lord Frederic Leighton. Although, as Martin says, he came frequently to Brighton to visit Sara, he was not here on Census day, 3 April 1881. He had not yet married Florence Leyland, the shipping heiress, an alliance which would no doubt help to smooth out his mother's troubled finances. Dining with Sara that night in what is now my sitting room were Blanche Clogstoun, her 18-year-old orphaned niece who had become Watts's legal ward in 1872. Also living with Sara were Laura and Rachel Gurney, her two grandchildren, 14 and 13, whose lives read like a fairytale and of whom I will write separately next time.
During her Holland House hostessing career, Sara's fame had been eclipsed only by that of her cook, so I am hoping for the sake of my diners that 22-year-old Mary Pryce from Shrewsbury was living up to culinary expectations down in the basement kitchen, assisted by the 20-year-old French domestic, Rosalie Boncoeur. Certainly, the girly things of life were well catered for by Maria Gillen, the French lady's maid, Mary Klitz, the lady's companion, Fanny, the parlourmaid and the housemaid, Rachel. Last, and no doubt least of all was little Annie of Portslade, the laundry maid who presumably was in charge of the huge quantity of petticoats and drawers that this all-female establishment must have required!
Sara moved from Number 24 in 1885 to 6 Montpellier-villas (sic) and died in 1887 aged 71. She is buried with Thoby near the family tomb of their dear friend, Tennyson, overlooking the River Yar in Freshwater, IOW. Of the below-stairs women, I can find no trace.
Jilly Foster
5 A DAUGHTER OF THE REGIMENT
BLANCHE 'Daisy' MARGARET STANDISH CLOGSTOUN
b: 17 October 1862 India. d: 26 December 1895 London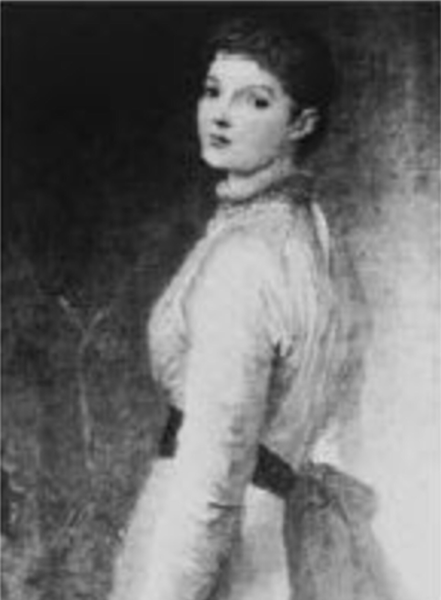 Blanche Somers Cocks (nee Clogstoun) G F Watts
Blanche Clogstoun shared much in common with Marie, the heroine of Donizetti's contemporary popular opera, A Daughter of the Regiment: an army brat, an orphan, a tomboy, and, most poignantly, collectively adopted by a benevolent band of well-wishers. Sadly, from what I can discover, here the similarities end. Marie gets her soldier and lives happily ever after but, although Blanche too married her soldier, her life had already been filled with tragedy and would be so again until its premature end.
I like to think that, at dinner at No.24 with her widowed great-aunt Sara on Census Day, Sunday 3 April 1881, she was perhaps as settled and happy as she had ever been. Nine years previously she had been adopted by the distinguished painter, G F Watts, (see Martin Kenig's entry above) and in two years' time she would marry the eminently suitable ex-soldier, Herbert Haldane Somers-Cocks.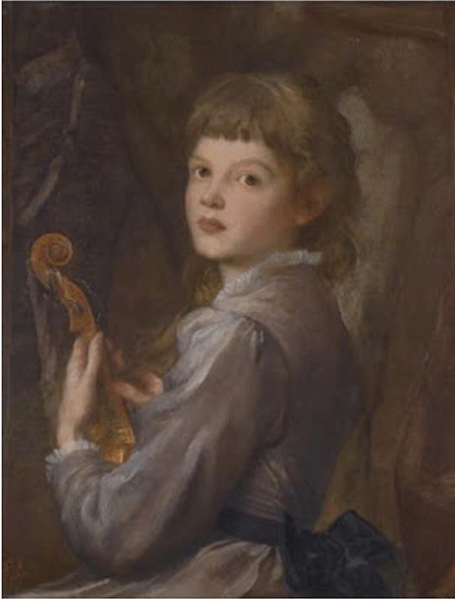 Watts's 'Daisy' at 13. Watts encouraged Blanche to take up the violin. The broken strings may represent the severed relationships of her life to date: her mother, father and sister Almost every male member of Blanche's family had been a soldier, many decorated for bravery, and all high-ranking. Grandfathers, grandfathers-in-law, father-in-law, uncles: all had taken part with distinction in some colonial struggle or another. Her own father, Herbert Mackworth Clogstoun, had received the VC in 1859 and was to die in action three years later in May, not living to see the birth of Blanche that same October.

Lieutenant General Colin Mackenzie in Afghan Dress, c.1842. Blanche's maternal grandfather
Major Clogstoun's widow, Mary Julia Blanche, Sara Prinsep's niece, still only 28, sailed with her children from India back to Britain. Sadly, she lived for only another eight years, and on or before her death, the children were parcelled out amongst the formidable great-aunties. The three girls, Mary, Adeline and Blanche, then 10, 9 and 8, were shooed into the presence of Sara and Thoby Prinsep for them to choose which children to 'adopt', but Blanche made a bee-line for a startled Watts, who was reading by the fire, and jumped into his lap. Watts immediately took financial responsibility for her, ceding her day-to-day care to Sara. He adored his 'Daisy', encouraging her musically and eventually giving her his house, The Briary on the Isle of Wight. Mary and Adeline meantime were scooped up by another aunt, Julia Cameron, to live at her neighbouring home on the Isle of Wight, Dimbola Lodge. This was to have fatal consequences.
Around this time, Julia Cameron (the plain Pattle sister, known as Talent) had just begun her stellar career as one of our most famous pioneer photographers. She and her husband already had five children and took care of at least five others, including an Irish girl they had found begging in the road. What with this and the constantly visiting literati, including their close neighbour, Alfred Lord Tennyson, and the constant distraction of numerous groupies and reporters hiding in trees stalking the Poet Laureate, one cannot help but think that this must have been an informal, easy-going household with very relaxed child supervision.
In June 1872, the two sisters, Adeline and Blanche, and Beatrice, Julia's grand-daughter, had already been warned about horsing around in the house but, according to Julia in a letter to May Thackeray, 'Beatrice got on Addie's back & then Blanche with a spring from the couch bounded on the top of Beatrice's Back so that fragile Addie had the double weight.' The combined efforts of her three doctors could not mend Adeline's broken back. Weeping children, servants, family, the Poet Laureate and at least one casual passing Tennyson fan gathered around the child's bedside at Dimbola. Adeline died on 8 June 1872 after lingering for a couple of days, never having regained consciousness. Julia resolutely refused the doctors' calls for an autopsy as her feelings were clear: '....for Blanche's sake I did not want it confirmed to darken her whole life'. She then proceeded to set up her camera, pose the scene with white linen and artificial flowers and take at least four 'memento mori' photographs of her 'Divine Glorified Beauty'. I have not reproduced Julia's tribute to her great-niece but it is available on the internet.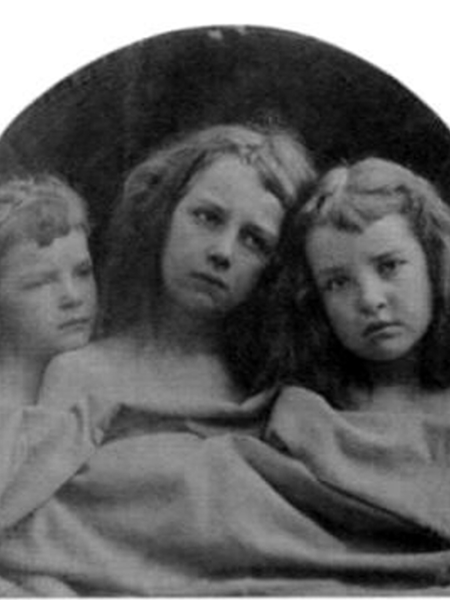 Hopefully, after her sorrow had abated, Blanche had a carefree decade, including some time at 24 Lewes Crescent, as on Saturday 20 January 1883, the Surrey Mirror finds her at a Fancy Dress Ball held by her fiancé's family 'dressed as a Dresden shepherdess wearing a skirt composed of six shades of pink with a brocaded bodice'. She married her Herbert on 16 June that year and everybody seems to have been delighted. Herbert's kinsman, Charles, 3rd Earl Somers, thought Blanche a thoroughly good (though young!) egg and made the couple a generous marriage settlement. Herbert was charming, kind, generous and popular at all levels of society, a fine sportsman, horseman and heir to the Somers barony. Alas, he suffered from constant ill-health brought about by his part in the Coldstream Guards' Egyptian campaign, continual bivouacking in extremes of heat and cold having irreparably damaged his lungs.
The couple had three children in quick succession, the first, a little girl only surviving for thirteen months, then a girl, Adeline Verena, and last a much-needed heir for the Somers estate and Eastnor Castle, Arthur Herbert Tennyson. In the early 90s, seeking a cure for Herbert's condition, the family moved to a ranch in Denver, Colorado, where they established a fruit orchard. They explored the States as a family and had some larks, but Herbert's health deteriorated and he died in Brighton, Colorado on Boxing Day 1894. The body was placed in a tent adjoining the family home but it was winter, wolves were gathering so it was removed to a cycle-repair shop in nearby Denver to await embalming.
At this point Blanche made what I think her great-aunts would have considered a high-risk decision, given family folklore regarding dead Pattles and the high seas.
Family anecdotes had it that the Pattle great-aunts' father, 'Jim Blazes' Pattle, had left instructions that, on his death in India, his body was to be transported back to England in a barrel of rum, a la Nelson. He was duly prepared and sealed down but here stories differ as to what happened next, although it is always disastrous. The main elements seem to be (1) that the barrel exploded, (2) that Mrs Adeline Pattle rushed in and found her dead husband sticking up like a 'Jack-in-the-Box' in his temporary coffin, (3) 'that the shock sent her off her head there and then and she died raving', (4) that after the explosion, the ill-omened replacement coffin had to be towed behind the ship like Cleopatra's Needle, (5) that the sailors went on a binge and polished off the embalming fluid. In fact, Adeline did not die for a couple of months after her return to England and Jim Blazes was decorously buried alongside his mother six months later. Nevertheless, 'this Pattle story', says Virginia Woolf's biographer, 'was always popping up.'
In this case however, the sad journey home took place without mishap and Herbert was buried on the Isle of Wight with his grieving family at the graveside. But Blanche too was ailing and, worse, was inconsolable. She died exactly a year to the day later, on Boxing Day 1895 and was buried with her husband.
By her death at the premature age of 33, she had lost her maternal grandparents, her beloved great-aunt and -uncle, her mother, the father she had never known, her sister, her husband and her baby girl. Watts, always ailing, outlived her by nine years.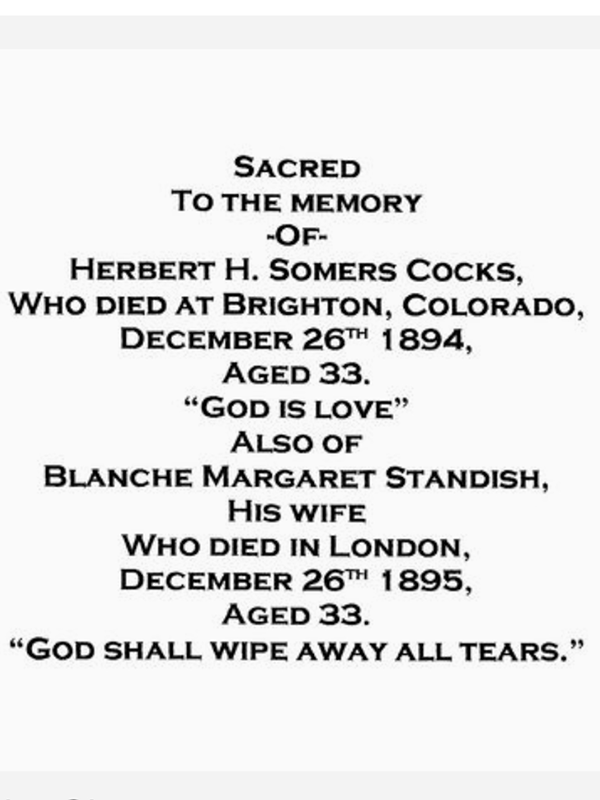 Blanche and Herbert left Verena and Arthur aged 9 and 8. Once again, extended family would rally round to care for the little orphans but perhaps not always successfully:
'Darling Verena,' Arthur wrote to his sister in an undated letter from his school, 'I have got into an awful row because I ran away again…..I have been birched by His Lordship but not publicly. I want His Lordship to forgive me but I don't know how to do it. The boys are all horrid what shall I do? I do feel so unhappy….Oh it is horrid…..so beastly. Another boy ran away with me and he was my only friend and he has turned against me now I have got no friend in the school. Oh how I wish Daddy was alive to help me but I haven 't got a father or mother what shall I do? .....you are the only person I have in the world to tell everything to…..I feel so sad…...I was out all Sunday night and I walked 24 miles. Oh Darling….Do help me if you can and tell granny that I am so sorry for what I have done. With lots of love, from your loving brother, Arthur.'
When in later years, Verena complained to her brother how hard it was to be parted from her own son, the by-then Lord Somers reminded her how she had urged him to bear partings from family when he was a boy. 'It is hard on you darling and you must just be the "British Matron" and bear it with a stiff lip." Like many a home-sick boarding-school boy before and after, Arthur had toughened up. Twice wounded at Ypres in WWI, he was to receive the MC, DSO and Legion d'Honneur for his bravery.
Jilly Foster