The History of 21 Lewes Crescent
The sinking of the Josephine Willis 1856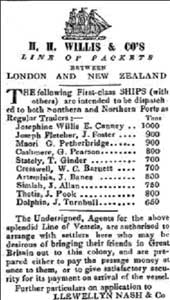 In February 1856, the sailing ship 'Josephine Willis' , one thousand tons, set sail from St. Katherine's Dock, London, carrying more than one hundred people, seventy of them emigrants looking forward to new lives in New Zealand. However, before nightfall the ship had collided with a steamship in the English Channel off Folkestone. After the collision, the steamship, the 'Mangerton' quickly reversed away from the stricken 'Josephine Willis' leaving her fatally holed and taking on water. She sank quickly and 72 lives were lost.
The 'Josephine Willis' was owned by the firm H.H. Willis & Co of Crosby Square, London. The firm was active in promoting the settlement of New Zealand. The principal Henry Willis had named his biggest ship after his wife, Josephine. His mother, Martha Willis, lived at 21 Lewes Crescent.
After a public controversy, an inquiry was held followed by trials of the masters of the two ships involved. These events must have caused Henry Willis great anxiety but the inquiry and the trials largely absolved his firm of responsibility. The Josephine seems to have been a casualty of the new and uncomfortable etiquette between sailing ships which, on the one hand, needed to tack into the wind and steamships, on the other, which ploughed a direct route regardless.
Later that year, Henry Willis, left his palatial house, The Knoll, in Blackheath, and travelled with his wife Josephine and a servant to his mother's house at Lewes Crescent. He was a very sick man and it was to be his last journey. He had made a new will in London in April and died on 19th July at his mother's house from a 'disease of the chest or abdomen unknown'. He was 47 years old.
Andrew Doig
2 Hugh Cecil Baron Quickswood
A 'Hughligan' at 21 Lewes Crescent, August 1908
Hugh Cecil, Baron Quickswood (1869-1956),
Hugh Cecil was the youngest son of the Marquess of Salisbury, the Tory leader and former Prime Minister. Hugh was active in parliament himself and later became leader of a group dubbed "The Hughligans", which included Winston Churchill.
The group's name was awarded for the vehement opposition they mounted to Asquith's Parliament Bill of 1911. The bill sought to prevent the House of Lords voting down the money bills of the elected government of the day. The Hughligans saw this as an attack on the Constitution. They lost and the bill became law.
Hugh Cecil wrote to Winston Churchill from No.21 Lewes Crescent on 20th August 1908 accepting his invitation to be best man at Churchill's wedding to Clementine Hozier. Churchill had proposed to Clementine during a house party at Blenheim Palace on 10 August 1908, and they were married on 12 September 1908, in St. Margaret's, Westminster.
When he wrote this letter, Hugh Cecil was staying at Major General Stileman's home at 21 Lewes Crescent. Stileman was a retired Indian Army Major-General and Christian evangelical. He had sons of around Hugh Cecil's age and it is possible he was visiting one of them at the time. The sons were: Harry, later Rear Admiral, Stileman , evangelical Director of Barnardos 1920-1923, Charles Stileman, Anglican Bishop in Persia 1912-1916 and Leonard Stileman, a temperance leader in Bedfordshire.
Andrew Doig