The History of 9 Chichester Terrace
1.Derek Granger
2.Kenneth Partridge
3.Cubitt Bas Reliefs
4.Sale Catalogue
1.Derek Granger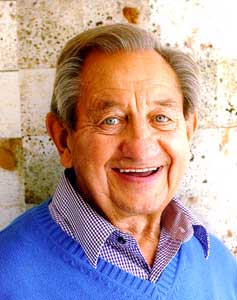 Derek Granger first moved to No. 9 Chichester Terrace with his partner, Kenneth Partridge, in 1952 when they used it as their weekend flat. They had met in Brighton in 1949 but lived first in Hove, in Tisbury Road and then, from 1952 in London.
Derek was educated at Eastbourne College and later saw four years war service in the RNVR.
After being demobbed, he came to Brighton to work as a journalist on the Evening Argus and Sussex Daily News.
In 1952, he was head-hunted by the Financial Times with an offer to become the paper's first Drama Critic, an appointment which saw the first foundations of what was to become the famous FT Arts Page.
In 1958 he received another invitation, this time to join the newly-formed Granada Television, where he quickly became Head of Drama, and where he went on to produce a great variety of programmes including Coronation Street, World in Action, Country Matters and many others. The high-light of his career was the televised adaptation of Evelyn Waugh's Brideshead Revisited, for which he received many awards, including a BAFTA and a Golden Globe.
In the seventies he worked for several years as Literary Consultant at Sir Lawrence Olivier's newly-formed National Theatre. Before then, he had enjoyed a period with London Weekend Television, where he produced a variety of arts and music programmes.
After leaving television he joined the board of Goldcrest Films and later formed a film company of his own, Stagescreen, where he produced two feature films, "A Handful of Dust" and "Where Angels Fear to Tread".
He also co-produced several plays in the West End including Larry Kramer's The Normal Hearts, Noel Coward's the Vortex and the Dickens musical, Drood.
He has, for many years, been an active fund-raiser for charity, first on the board of the Aids charity, Crusaid, and latterly for the children's theatre charity, Chickenshed.
He has also served on the drama panel of the Arts Council and the English Stage Company of the Royal Court Theatre.
As a highly active conservationist, he was an early member of the Kemp Town Society, subsequently becoming chairman. He also served on the boards of both the Regency Society and the Kingscliffe Society. For all three Societies he fought many campaigns against unsuitable developments.
Derek's speech at the 2016 Kemp Town Society Garden Party at which he was the special guest.
Ladies and Gentlemen,
Thank you, thank you so very much. I feel enormously honoured and flattered by all this lovely fuss being made over me - and just for being the oldest inhabitant in the village. But I also feel quite a bit of a fraud. There is absolutely no merit whatever in living to an extremely great age. The only truly noticeable effects of it are the perennial struggle to put on one's socks and trousers, a tussle which seems to take longer and become more exhaustingly arduous with every passing year.
But I am also particularly happy that this little celebration should also be in honour of Kenneth Partridge for as some of you may fondly remember he was not always totally averse to being the centre of attention. I know he would have loved it, especially after getting those amazing obituaries, including a full page in The Times, which all spoke of his huge zest for life and his occasional predilection for being outrageously outspoken.
Brighton played a big part in both our lives. I first came here, just after the war, in 1947, to work as a journalist on the local papers, The Argus and The Sussex Daily News, where I had a great time learning my craft and doing interviews with subjects as crazily various as Mae West and Evelyn Waugh.
My first experience of Brighton was living in digs with a presiding landlady, somewhere to the north of Western Road. Intending to make a genuine compliment I came down to breakfast on my first day and exclaimed to her: "How marvellous - there's nothing I love more than burnt toast." After that I was toast. Our relationship never recovered.
It was in Brighton where I first met Kenneth. A raffish retired naval commander rang me up one day and asked if I could do him a favour. He'd asked a young South London boy down for the weekend, now realised he had a house full and could I possibly give the lad a bed for two nights. Kenneth arrived on my doorstep on a balmy summer evening in 1949 and stayed for sixty-six years. Soon afterwards we got a flat in Hove. In those days flats were seldom self-contained. Ours was a dilapidated set of rooms on the top of an old Edwardian house in Tisbury Road which we decorated with Matisse posters and dyed blue fishing net encrusted with mummified starfish. Thus began our long association with this fair city.
In more recent times I have been proud to take part in our endless battles against heavy odds to keep this beautiful, historic town as architecturally intact as we possibly can and I'm still amazed and grateful for the wealth of fine old buildings that the city managed to retain. But there were certainly some very dark days like the one in the Council Chamber a few years ago when he city council voted to revoke the height clause for buildings in the Marina. The hideous Stalag-like development which now rears up above the cliffs is a constant reminder that our battles are far from won. But I know the Society will remain ever vigilant and in the spirit of the great David Morris who founded the Society and got the whole thing going, it will continue the good fight.
I would just like to finish by remembering a very dear friend and supporter. Patsy Perrousset who was so close to many of us. A week ago, alas, Patsy left us for the great garden enclosures in the sky. She will be hugely missed by many and her unquenchable gift for friendship, the quality she possessed in abundance, is the one which we will long cherish and remember. I met her on a certain notorious beach some thirty-five years ago. There was a wonderful line in one of those marvellously rude seaside postcards by the famous cartoonist Donald McGill and I'd always longed to try it out in a real life situation. So as Patsy was delicately putting her foot into the sea to test its temperature I gently advanced on her and asked: "Excuse me Madam, but if you're going to drown those two puppies, may I have the one on the left, please." It was the beginning of a long and wonderful friendship.
Derek Granger
2.Kenneth Partridge
Kenneth Partridge, who died in December 2015, was Derek's partner for sixty-six years. They first met in Brighton in 1949. Kenneth, who was born in St. Mary's Cray, went from school to Bromley Art College, where he quickly developed his artistic flair.
During the war he became a Bevin Boy, working in the coal mines of South Wales, before being seconded to the RAF in the last year of the war.
After being demobbed, he joined the advertising agency of J. Walter Thompson as an illustrative artist before moving to Simpson's, Piccadilly. There he became a window dresser under the tutelage of the great doyenne of that art, Natasha Kroll.
From Simpson's he went to work for Elizabeth Arden at her Bond Street salon, where he also had charge of the forty windows of the Arden shops around the country.
This led to a major commission to undertake all the window displays at Jaeger in Regent Street – a wonderful showcase for Kenneth's striking and original designs which won many awards and drew crowds on the pavement.
After he went freelance in 1965, his friendship with the Beatles's manager, Brian Epstein, led him to design the rooftop party which was held to introduce the Liverpool group to the music industry and to the leading singing stars of the day, including Mick Jagger and Judy Garland.
At the same party, John Lennon invited Kenneth to decorate his house in Wentworth, Surrey. Kenneth went on to design Ringo Starr's flat in Mayfair and the Apple shop in Baker Street.
From this point, Kenneth's career was at the very heart of London fashion and he acted as designer for Sir Norman Hartnell, Sir Hardy Amies and the Hungarian silk tycoon, Sir Nikolas Seckers – all of whom became close personal friends.
Kenneth had a particular flair for designing parties. He designed a party at Sotheby's for the chairman, Sir Peter Wilson, and a skating party for Sir Hardy Amies for which he transformed the rink in Queensway into a Russian woodland lake with silver birch trees hung with lanterns and fur-covered huge sledges for non-skating VIPs. For the flamboyant party-giver and eccentric couturier "Bunny" Roger he designed three of his most famous summer balls, the Silver, the Amethyst and the Hellfire ball which celebrated Roger's eightieth birthday.
Kenneth, in retirement, worked hard for Lord Longford's charity, New Bridge, visiting prisoners in gaols across the country.
Kenneth loved to entertain and his guest books contained many famous stars, among them Lauren Bacall, Laurence Olivier, Ingrid Bergman, Claudette Colbert, Ian McKellen, Natalie Wood, Robert Wagner, Alec Guinness and many more.
Derek Granger
3. Cubitt bas reliefs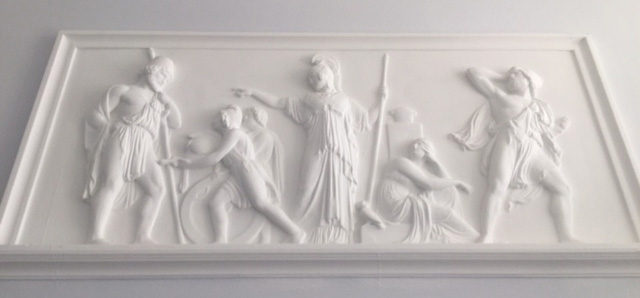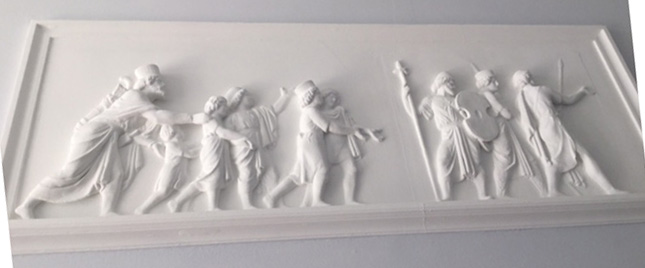 4.​Sale Catalogue