The History of 3 Chichester Terrace
1 Archibald Francis Arbuthnot and the Hon Gertrude Arbuthnot: 1854 – 1867
2 Henry Green and Elizabeth Green: 1868 - 1880
3 William Rudd Mace
4 Stanley George Lutwyche and Emily Martha Lutwyche: 1887 - 1932
5 Louisa A Sankey
6 St Mary's School (Babington House)
1 Archibald Francis Arbuthnot and his wife Gertrude.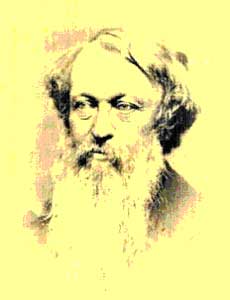 Archibald Arbuthnot the East India Merchant and his wife Gertrude Arbuthnot were the first occupants of 3 Chichester Terrace from about 1854.
Archibald Arbuthnot was born in 1805, the son of Sir William Arbuthnot, 1st Baronet Arbuthnot, who was Provost of Edinburgh, and Anne Alves, daughter of John Alves of Shipland. He married Hon Gertrude Sophia Gough, daughter of Field Marshal Hugh Gough (1st Viscount Gough), Commander-in-Chief of India, on 12 December 1837 in Bangalore. Their sons included Major-General William Arbuthnot and Sir George Gough Arbuthnot.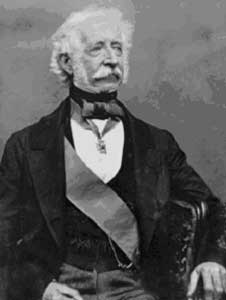 Archibald was a partner in the Madras bank, Arbuthnot & Co. The bank originated in 1800 when the Aberdeenshire Scot George Arbuthnot, 1st of Elderslie, arrived in Madras and joined the firm of Francis Latour & Co established in 1777. The bank became Arbuthnot & Co. in 1821. Sixteen Arbuthnots who were relations of the founder were associated with the firm.
Archibald's family home in London was the splendid 25 Hyde Park Gardens, where he lived from before the 1851 census until his death. The 1851 census shows him and Gertrude living with Viscount Gough and two of their sons and two of their daughters, supported by eight servants. Archibald is shown on the 1857 electoral roll as residing at 4 (sic) Chichester Terrace, Brighton. He died in 1879 whilst staying at Silver Hill in Torquay (now the Lincombe Hall Hotel), leaving an estate of £350,000. Gertrude died in 1882 at the Alexandra Hotel in St Leonards-on-Sea, Sussex.
Their son Sir George Gough Arbuthnot became partner of Arbuthnot & Co of Madras 1871 and was senior partner in the firm at the time of its spectacular crash in 1906, as a result of which he was sentenced to 18 months 'rigorous imprisonment'.
2 Henry Green and Elizabeth Green: 1868 - 1880
The shipbuilder Henry Green and his wife Elizabeth were the next to live in 3 Chichester Terrace, from 1868.
Henry Green was born in Blackwall in 1808, the second son of the shipbuilder George Green who was a partner in the Blackwall Yard, said to be the largest private shipyard in the world.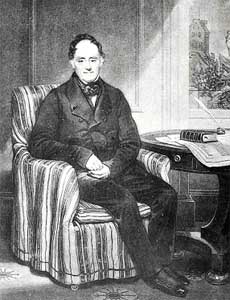 After Napoleon's defeat in 1815, the Blackwall Yard prospered as the building and repairing of East Indiamen started up following the European peace. A period of expansion in the types of ships constructed and in the diversity of materials used began at the yard. In 1821, the 401 ton City of Edinburgh, the first steam-vessel to be built at Blackwall Yard, was launched. In 1824 George Green purchased the Sir Edward Paget, and founded the line of passenger sailing vessels to India and Australia, known as the Blackwall frigates, which were popular with travellers for their speed and comfort. By the end of the 1820s, Green had also become active in the whaling trade, constructing whalers and engaging in commerce in the South Seas.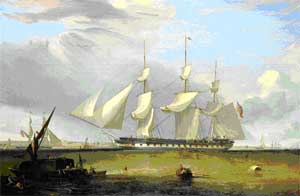 In 1822, Henry entered the Yard as a shipwright apprentice to his father at the age of 14. In 1829 George Green's eldest son, Richard (1803–63), who was Henry's half-brother, became a partner in the firm, which was then styled Green, Wigram & Green, and in 1831 Richard was also taken into partnership.
In 1843 the Green-Wigram partnership expired and the Yard and ships were divided between Messrs. Money Wigram and Sons and Messrs. Richard & Henry Green. The eastern yard was occupied by R & H Green. Greens demolished earlier buildings in order to extend the dry dock. Greens continued building wooden ships longer than Wigrams, including 25 naval vessels, 14 of them 200-ton gunboats, during the Crimean War. Their first iron ship was built in 1866.
The 1871 census shows Henry Green living at 3 Chichester Terrace aged 63, with one son, two daughters, two grandsons, one visitor and five servants.
Henry died in 1876 at Temple Court, Wray Park, Reigate, leaving an estate of £180,000. His wife Elizabeth continued to keep 3 Chichester Terrace until her death in 1880.
Their son Henry (born 1838 in Blackwall) became a senior partner in R & H Green and was Liberal MP for Poplar from 1885-86.
The Green family at No 3 Chichester Terrace and The Wigram family at No 4 Chichester Terrace had been in partnership at the Blackwall Yard but had ended the partnership and effectively become competitors in 1843. This did not stop them from living (presumably harmoniously) next door to one another in Brighton and perhaps there was a friendship between Henry Green and Edward Wigram that brought Henry Green to Brighton as Edward's neighbour.
3 William Rudd Mace: 1882
The 1881 census shows 3 Chichester Terrace as unoccupied.
The street directory of 1882 shows the wine merchant William Rudd Mace as occupying the house in that year, with the following four years shown blank. From 1880, William Rudd Mace lived at 10 Chichester Terrace and it is possible that he had acquired 3 Chichester Terrace for his daughter Emily and her husband Stanley George Lutwyche, who had married in 1870. The Lutwyches were residing in 3 Chichester Terrace from 1887.
William Rudd Mace was born in the village of Brooke in Norfolk in 1815. He was related to Robert Gray Rudd who was born in the neighbouring village of Bramerton in around the same year. Robert Gray Rudd founded a firm of wine merchants in 1851 and his grandson Hugh joined the renowned firm of Berry Bros. & Co. in 1920, later renamed Berry Bros. & Rudd.
William Rudd Mace became a Freeman of the City of London in 1843 and his daughter Emily Martha Mace was born in London in 1849. He lived in Streatham Hill and acquired a significant property portfolio, including hotels and taverns at Minories, East Smithfield, Bethnal Green and the Strand.
The 1861 census shows him residing in Richmond Lodge, Streatham Hill with his wife Martha, family members, visitors and servants. The neighbouring property, Arborfield, was the home of the leather merchant Edgar Lutwyche, father of William's future son-in-law.
William is thought to have lived at The Old Cedars, Westwood Hill from 1868 until about 1882. He owned land in the London suburb of Beckenham where five houses were built in the early 1870s along what is known today as South Eden Park Road. The houses most closely associated with William and his daughter Emily and son-in-law Stanley George Lutwyche were Elderslie and Oakwood.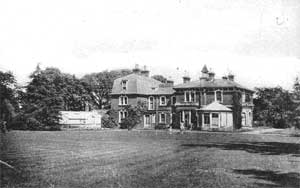 William was residing at 10 Chichester Terrace when he died on 11th December 1900 at the age of 85, leaving the enormous fortune of £493,284 13s. 4d. His son-in-law Stanley George Lutwyche was one of his executors. William's cremated remains were buried in Norwood Cemetery.
4 Stanley George Lutwyche and Emily Martha Lutwyche: 1887 - 1932
Stanley George Lutwyche was a successful London leather merchant born in 1845. His grandfather, John Lutwyche, moved to London from Worcestershire to start a leather merchant business, under the firm of Lutwyche & George, based in Skinner Street, Snow Hill. John became Master of the Leathersellers Company in 1847. Stanley's father, Edgar, continued the trade and became a Freeman of the City of London in 1848. Stanley himself was made a Freeman in 1868 and became Master of the Leathersellers Company in 1906.
Stanley married Emily Martha Mace, daughter of William Rudd Mace, in 1870. They lived in Sydenham and then Tulse Hill, raising a family of three daughters and a son, Gerald, who became Master of the Leathersellers Company in 1946.
The street directories show Stanley living at 3 Chichester Terrace from 1887. The 1891 census shows him and Emily residing there with their youngest daughter and five servants, but they cannot currently be located on the 1901 census. Stanley traded in fur and may have made visits to North America in this connection, so the family may have been overseas at the time of the 1901 census. His name appears on passenger lists for destinations including Buenos Aires, New York and Montreal in the early years of the twentieth century.
The census taken in 1911 shows that by that time the Lutwyches had combined No 3 Chichester Terrace with the neighbouring property No 2, and these houses remain combined to this day. Stanley was now aged 66 and his wife Emily aged 62. The Lutwyche leather business had been successful over three generations and Emily had inherited a tidy sum from her late father William after his death in 1900, making the acquisition of the neighbouring property affordable. Their two unmarried daughters Violet, aged 36, and Vera, aged 24, were living in the houses along with seven servants and a lady's companion.
Stanley died on 14th April 1919, leaving effects worth £2,923 5s. Emily continued to live in Chichester Terrace until her death in 1932, leaving effects of £24,662 7s. 2d.

5 Louisa A Sankey: 1901
The 1901 Census shows Louisa A Sankey aged 52, the niece of William Mace Rudd, living in 3 Chichester Terrace whilst the Lutwyches were away. She was born in Thames Ditton, Surrey, and is described as a wife living on her own means, with two daughters, two visitors and five servants.
Louisa was married to William Sankey, a coal mining engineer, and in 1891 they were living together in Sandiacre, Derbyshire. William was living apart from Louisa in Morley near Belper, Derbyshire at the time of the 1901 census, probably conducting business in a coal-mining area.
St Mary's Hall (Babington House): 1934 – 1970
Following the death of Emily Martha Lutwyche in 1932, 2 & 3 Chichester Terrace was acquired by St Mary's Hall Girls' School in 1934 to become the boarding house known as Babington House. It remained such until around 1970, when the properties were converted for use a residential flats.
Andrew Mosely