The History of 5 Arundel Terrace
1.Harrison Ainsworth
2 Countess de Belleroche
3 William de Belleroche
4 Gordon Anderson
5 Paul Richey
1 William Harrison Ainsworth, 1805-1882.
Author of 40 historical novels,whose fame was comparable to that of Dickens.
Recollections of Kemp Town's early days by published on 16th January1892 by William Baines in the Brighton Herald
The genial and talented Harrison Ainsworth resided here many years before his lamented death. The writer used to frequently meet him walking over the Downs, when he was writing 'Ovingdean Grange'. Looking at his happy cheerful countenance, one would never believe that he was capable of concocting for the purposes of his stories the most diabolical plots and conspiracies that the human mind could conceive of.
2 Countess de Belleroche
The Countess Julie de Belleroche (the widow of artist Albert de Belleroche) bought No.5 in 1957 and bequeathed it to her son William a year later. He owned until his death in 1969 when it was inherited by Gordon (Andy) Anderson.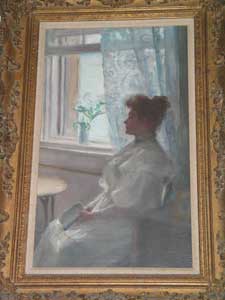 Painting of a woman sitting by a window. This is a painting by Albert de Belleroche of his mother, Alice. The painting was made while the two were waiting in a hotel in Folkestone (or Dover) for the weather to improve before embarking for France. During the sitting(s) a maid came in through a door behind the sitter and was included in the painting. Albert did not like the balance of the painting when finished and so he cut the canvas in half to exclude her. He eventually gave this half to his friend, the painter Frank Brangwyn R.A. He in turn gave it to the Brighton Pavilion who own it today.
3 Count William de Belleroche
Portrait painter, printmaker and collector.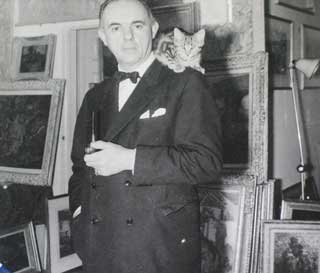 Born in London in 1913, son of Albert Gustavede Belleroche (q.v.) the painter and printmaker. Grew up and lived in Rustington, Sussex and finally living in Brighton. On the death of his father in 1944 he inherited the French title of Count and was then widely known as Count Willie. He was a self-taught painter but was greatly influenced by Frank Brangwyn (q.v.) whom he met in 1934. He was a bohemian and avid collector of Brangwyn's work and natural history objects, such as shells. He painted a large number of single shells on board.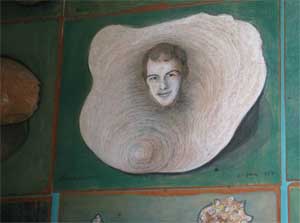 He had a wide circle of friends including actresses and the artists Augustus John and James Fitton and painted portraits of many of them. A one-man exhibition was held at Prunier's Restaurant in 1963 and one in Brighton the following year. He had annual exhibitions at the Grosvenor Galleries, London and the Fine Art Society held a retrospective exhibition in 1989.
4 Gordon 'Andy' Anderson at 5 Arundel Terrace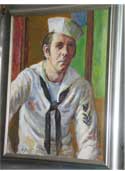 Andy Anderson came to live at Arundel Terrace in 1957. He had just completed military service in the US Navy in which he witnessed a hydrogen bomb test in the Marshall Islands and served at the US European HQ in devastated post-war Frankfurt and then Paris. It was in Paris that Andy met Willie and later came to live in Brighton at Willie's home. Count William de Belleroche, son of the impressionist painter Albert de Belleroche, was himself a painter and lifelong champion of his father's work and that of Frank Brangwyn. Through Willie's artistic connections Andy came to meet, and in many cases, befriend artists, authors, actors and personalities of the post-war era. After Willie died in 1969, Andy continued to maintain a large circle of friends, many of whose names are still well known today.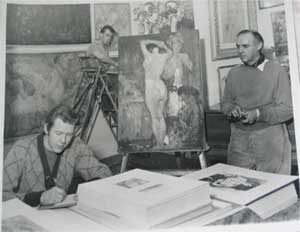 I asked Andy about his memories of the Estate in the 1950's and 60's. He told me about the cluster of stars who lived here and those he knew, like film actors Robert Flemyng, Hermione Baddeley, and Michael Wilding but also about scores more interesting people who came here to visit. We have talked about artists Duncan Grant, Edward le Bas, Augustus John, and James Fitton, actors Dirk Bogarde, Elizabeth Allan, Flora Robson, and Patrick McNee, and authors Robin Maugham, Peter Churchill, Kay Dick and Enid Bagnold. There are a host of other personalities he knew, including Gilbert Harding, Dougie Byng, Judy Garland, Lionel Bart, and the Oliviers. The names and the memories keep coming.
So far we have completed 75 typescript pages of recollections of the famous and not- so-famous of the period and we are still going strong. I don't know if Andy will decide to publish this memoir but at least something of his interesting life and something of Brighton's post–war community of artists will be captured for the present.
Andrew Doig 2015
For Dougie Byng see 6.Arundel Terrace
For Kay Dick see 9 Arundel Terrace
Gordon "Andy" Anderson
Downs Crematorium 10th October, 2017
As the oldest inhabitant in this village I think I can claim to have known Andy for well over sixty years. We must have met in 1955 when Andy first arrived in Brighton and we had remained close friends ever since.
Andy had come to Brighton at the invitation of an extremely exotic figure, the Count William de Belleroche whom Andy had met in Paris when he was a young sailor in the U.S. Navy, then serving as a clerk at the HQ of General Eisenhower.
I actually got to know Willy some years earlier, just after he'd moved to Brighton in 1951. Often enveloped in voluminous cloaks which gave him the appearance of a benevolent Count Dracula, Willy was a British subject but with a French title and of extremely glamorous lineage. His father, Count Albert, a distinguished painter, was at the very centre of early nineteenth French culture and of the great world of the impressionists, a friend of the writers Emile Zola, Oscar Wilde and Marcel Proust and of the painters Renoir, John Singer Sargent and Toulouse Lautrec. It was, in fact, a scandal involving one of Lautrec's models that led to the Count's young wife ordering him back to England where he acquired a handsome manor house in Rustington, Sussex which was where Willy grew up. Then in 1944 Willy inherited the title and some years later settled in Brighton in the tall house in Arundel Terrace where we shall all be happily gathering later today.
Willy was one of a great triumvirate of friends. The second was the irrepressible Robin Maugham, the second Viscount, son of the Lord Chancellor and nephew of the great author Somerset Maugham. Robin too was a prolific novelist who, with The Servant, produced one very near masterpiece.
The third friend was the Hon. George Kinnaird, son of the seventeenth baron. George was still working for the great eighteenth century publishing house, John Murray, established by his forbears. It was indeed George's ancestor, Douglas Kinnaird, who had been Byron's own publisher and also perhaps Byron's closest friend.
It was into this raffish world of aristocratic bohemians that Andy was now plunged. He took to it like a duck to water and within its heady confines, where art and creativity and culture were paramount, Andy thrived. And if you ever thought that in the grim fifties party time was over I can assure you now that in the group where Andy found himself the party never stopped.
Another great friend was that enchanting comedienne, Hermione Baddeley. As we were about to enter No. 4 for yet another party Hermione, as was her custom, had spied out a handsome young fellow guest. "Did you notice something, darling?" she murmured to me in her inimitable gurgling drawl, "No shoelaces. You know what that means darling ? Just out of the nick, dear."
When Willy died Andy went to live, as his companion, with Robin Maugham and when Robin died, far too young at sixty-four, Andy came back to No. 5.
For all his affection and warmth it has to be admitted that Andy did possess a few tiny eccentricities. Even the most experienced professional de-clutterer would have quailed at the prospect of Andy's sitting room.
The last time I visited it was difficult even to find a pathway to Andy's chair so labyrinthine had become the maze-like trails across his living space. Negotiating those vertiginous cliffs of glorious clutter, the impedimenta and detritus of ages past, and now in imminent danger of collapse, was like attempting a dangerous ascent up an Alpine pass.
In a house so full of art it was always a slight regret that Edward Le Bas's gorgeously luminous painting, Breakfast in Brighton, was largely obscured by Andy's bedclothes. But at least the Duncan Grant portrait of Andy as a dashing young sailor which Andy had shown on the Brighton edition of the Antiques Road Show remained on proud display.
But it was Andy's quirkiness which added so winningly to the mix. Indeed, his gift for friendship and his care for others remained always indelible.
Climbing up to Andy's rooftop for his annual party was an event never to be missed and the huge salads and the slightly burnt but delicious offerings that accompanied them, the relaxed and happy guests now crammed chimney breast to chimney breast, made this always the best party of the Brighton summer.
We should also remember Andy's huge strength of character and how, in the face of the most gruelling illnesses, his courage and stoicism allowed him always to triumph over any sign of moping or self-pity. Even in the years when he could only be fed through a tube he still went on many theatre outings with the Kemp Town Society and would jauntily celebrate the occasion with the one dish he was allowed by mouth - a brimming bowl of clear soup which he would quaff as if it were vintage champagne. Andy was indeed a great Brighton character. He was also a dear friend and he will be hugely missed by all of us.
Derek Granger
5 Paul Richey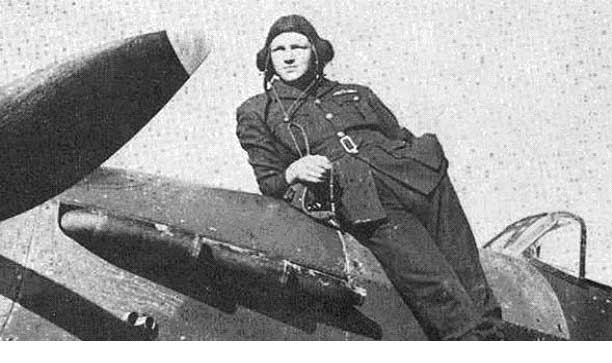 Paul Richey, ace fighter pilot, 5 Arundel Terrace
by Andrew Doig 2015
Paul and Mike were raised for a time in the court of Albania's King Zog because their father, a former British army officer, was inspector general of the country's police force.
Paul Richey and his wife Diana, lived at No.5 Arundel Terrace, moving in with 2 dogs and moving out in 1973 with 6 dogs!
Wing Commander Paul Richey DFC, joined the RAF in 1937 and in September 1939, five days after war was declared, he was posted with the elite No.1 fighter squadron to France. Their job was to protect British bombers working with the British Expeditionary Force in France. Paul was just 23 and leading pilots his own age and younger. They flew Hurricanes and during his time there he shot down 13 enemy aircraft while having to bale out from doomed aircraft twice and finally crashing in his aircraft after being wounded in face and arm. After a spell in a Paris hospital he got back to England just as France fell. He was awarded the DFC. He wrote and published 'Fighter Pilot' in 1941, an account of his experiences in the Battle of France. The experience of fighting tactics and skills gained by his squadron in battle proved invaluable to the pilots who then fought and won the Battle of Britain.
Paul Richey went on to fly again in England adding a bar to his DFC for his work and was later posted to Burma, He flew again after the war in the Korean crisis of 1950. He turned to journalism in peacetime. Paul died in 1989.
For further reading: Mike Richey (Paul's brother) see 16 Lewes Crescent